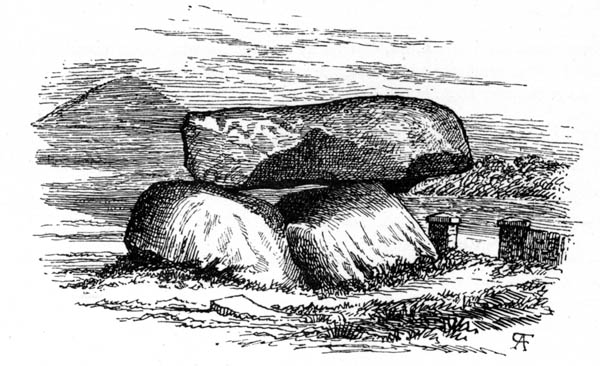 Dolmen of the Four Maols, Ballina, Co Mayo. From Borlase, Dolmens of Ireland, 1895.
Dolmen of the Four Maols.

On Sunday, June 4th 1998, I set off with my trusty OS map to take in a few of the Mayo sites. First stop is shown above in an old illustration, is the Dolmen of the Four Maols, which is easy enough to find as it is signposted from Ballina Train Station. Rather than a dolmen, it looks to me like the remains of the end of another type of monument, possibly a court cairn, a very common type of structure in Mayo. The ground around the monument is pretty chopped up as cattle are watered right beside it. The dolmen looks as though someone tried to destroy it in the past, as several of the stones have what seem to be drill marks - there are six in the top left side of the capstone.

Looking into the chamber recess, while being stared down by the inquisitive bullock.