Two stone circles, one large, one small, about 100 meters apart, on a low hill 50 meters above sea level. The smaller circle is slightly lower and to the southeast of the larger circle. This little monument is about 7 m in diameter, and has a raised platform type structure within it. I would say this is field clearance stones, as some of them looked to have been added recently. There are a couple of boulders lying about as shown above - but it is hard to tell what is going on - this is a silage field full of very long grass.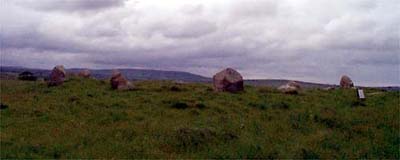 A dark shot of the larger circle. The hill in the distance has a large cairn on it's summit, and another further south. The Céide fields lie just beyond this hill.
The larger circle has thirteen stones, three of those fallen, and measures about 15 meters in diameter. There is a great view from here - though you wouldn't know it from the picture. I could see in as far as Knocknarea and Benbulben to the east - 50 - 60 Km away. In the foreground is Killala Bay and the Atlantic Ocean. To the west is a large hill near the Céide Fields with two cairns and a large enclosure - next visit. South are the Mayo mountains and probably the Twelve Pins in Connemara.
Again, the rocks seemed to be a hard granite or sandstone with plenty of chunks of quartz.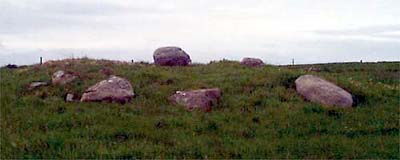 Another shot of the smaller circle.