I spent a while searching for three megalithic tombs..... and eventually found this.
Next I headed north into Rathlackan to look for a group of three monuments marked on the map. It took me a while to find the spot - up on the bog near where General Humbert landed in 1798 - there is a monument to him up there. After a while I found the stone shown above - and wondered if it was a destroyed monument. I figured it was an inventive farmer - there is a gate nearby with two large stones as posts, all probably pushed into the ground with a digger.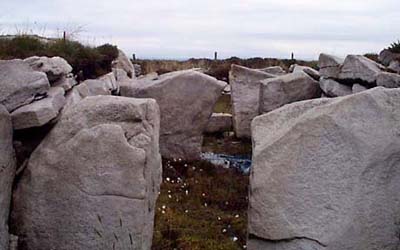 Looking east through the monument from the end chamber. Knocknarea Mountain was visible by the fence post left of centre.
Then I found one! It turned out to be the most interesting monument I found that day - a near perfect court cairn. It is walled off in a kind of small enclosure. I saw several experemental sections of drystone walling around the site. There are also stepping stones around the cairn. The site was obviously under excavation - by Gretta Byrne from the Céide Fields, as I since found out. This appears to be a perfectly preserved monument - bogs do that sometimes. The entire monument was been covered in peat, probably for thousands of years.
The monument is oriented to the east - again I could see Knocknarea Mountain in the distance. There are several chambers, or stalls - I don't remember if there were three or four of them. The roofing stones are intact, lifted off the chamber probably by the same digger that pushed in the stone post above. The roofslab of the first and largest chamber is massive - my last picture, below shows this stone. I stuck my sandle on it for scale - but it doesn't really show how big it is. There were several smaller roofslabs from the other chambers.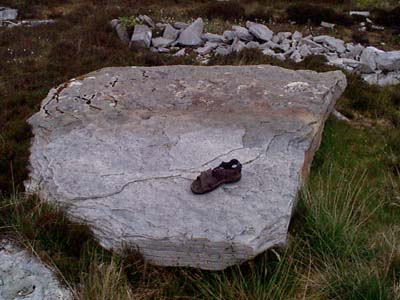 The roofslab from the first chamber of the cairn, with my sandle (size 9) for scale. It measures about 3 meters square.
That was my few hours north of Killala between Lackan Bay and Rathfran Bay. I had a quick look, but couldn't locate the two other megalithic structures nearby.