Email me



Knocknarea
Queen Maeve's Cairn
The Glen
Carrowmore
Carrowkeel
Shee Lugh
Sliabh Dá Eán

The Barnarashy food vessel, probably dating from the bronze age, was discovered in one of these monuments. This image was used for a while on a stamp.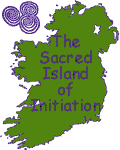 The Barnarashy monuments

Barnarashy is a small collection of monuments 1 km north of Carrowmore. Originaly there wee five monuments here, but now the remains of two are all that can be seen, as the site is crossed by a ditch and quite overgrown.
The largest site is the remaining stones of a substantial cairn with a cruciform chamber. The diameter is about 20 meters across, and the chamber is 4.5 meters long. Six kerbstones remain in position. The site is cut in half by a ditch and overgrown with bushes and undergrowth, so not much can be seen. It must have been a major monument given that it had a cruciform chamber. Roger Walker excavated the site in the 1830's, and found the bronze age food vessel, illustrated below, which he sold to the Duke of Northumberland. It now resides in Alnwick Castle, along with several other Sligo artifacts that Walker sold. Wood-Martin excavated the chamber in 1888, and found the right hand recess to be full of pieces of white quartz. He also found cremated and uncremated bones, charcoal and a hammer stone.
The monument shown in the photo above is a stone row, four large boulders and one offset smaller stone. This row may have a possible alignment towards Knocknarea. Such stone rows have been examined in other parts of the country, and are thought to date to the bronze age. They often point to the rising or setting of a heavenly body. I haven't come across any research suggesting this row has been checked out for alignments.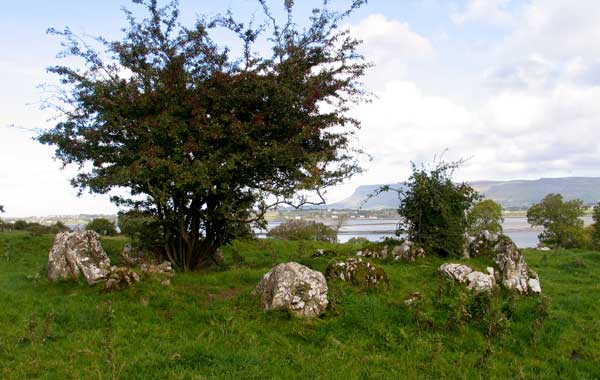 Two more monuments, which may have been cairns or boulder circles were completely destroyed in the past, and may have stood in the field just west of here.