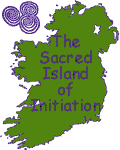 Knocknashee is a beautiful table-top mountain in south west Sligo, which rises suddenly from the drumlin plain to dominate the surrounding area. It will be a familiar sight to anyone who passes up and down the N17 between Tubbercurry and Collooney. The area around Knocknashee is thickly dotted with ringforts and mounds and there are several ruined megalithic chambers in the area.
Two neolithic cairns are located within a huge enclosure which covers the flat top of the mountain. One of the cairns, picture above, has a chamber composed of large stone slabs, which must have been opened in fairly recent times, as the entry slab was broken to get into the chamber. The chamber resembles the large megalithic structure at Listoghil in Carrowmore, and also the monument just east of Cairn K at Carrowkeel. There are some scratchings, possibly from the Iron age, on one of the slabs. There are also some 30 hut foundations similar to those found recently on Knocknarea, and the large collection of huts at Doonaveeragh in Carrowkeel. Their diameters range from 7 to 10 meters, and several have doorways. Some of the huts can be seen in the picture below.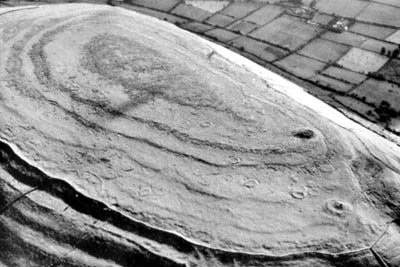 An aerial view of the flat summit of Knocknashee, showing the cairns and hutsites on the lower right. The Bronze age ditch is visible running along the lower part of the picture. The summit is 300 meters above sea level.
Knocknashee is also in fact, one of Ireland's largest Bronze Age hillforts, having three huge ditches running around the hill, one at the top, middle and bottom. Building neolithic chambered cairns on hill-tops within stone enclosures in the west of Ireland seems to have been at least as common as building monuments within enclosures was in the Boyne Valley.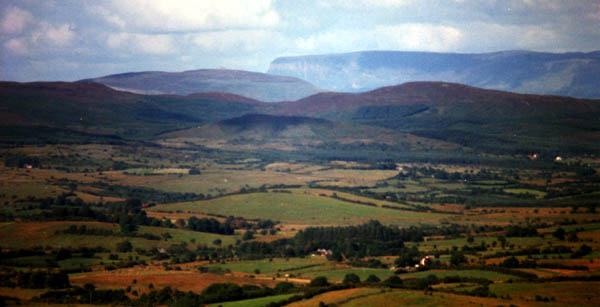 The view from Knocknashee; this photo has always reminded me of a Cezanne painting. Queen Maeve's Cairn on Knocknarea and Benbulben form an artificial notch, which marks the extreme northerly lunar standstill rising position. Picture © Leo Regan
There is another cairn and enclosure on the summit of Muckelty Hill just a few km south east of Knocknashee.