Cliffoney Event Remembers 'The Rebel Priest'
Press Release by John Joe Gallagher, 5th June 2015
A commemorative weekend will be held in Cliffoney on the last weekend in June to remember one of Ireland's forgotten heroes, Fr. Michael O'Flanagan, described by Cathal Brugha as "the staunchest priest who ever lived." Fr. Michael, a Roscommon native arrived as curate in Cliffoney in 1914 to support the parish priest Fr. Shannon who was unwell.
After numerous efforts to sort out turbary rights for the local people with the Congested Districts Board, Fr. Michael, against the advice of his bishop addressed his parishioners in Cliffoney after mass on the 29th June 2015 and in a passionate address urged them to go with him to the bog in Cloonerco next day to cut their turf. As the turf was saved over the summer months the local RIC arrested some of those involved. Undaunted the turf was taken to Cliffoney village and stacked outside the old national school building, across from the RIC barracks. A tricolour and banner that read 'Ár móin féin D'ár muintir féin' – Our own turf for our own people were placed on the stack.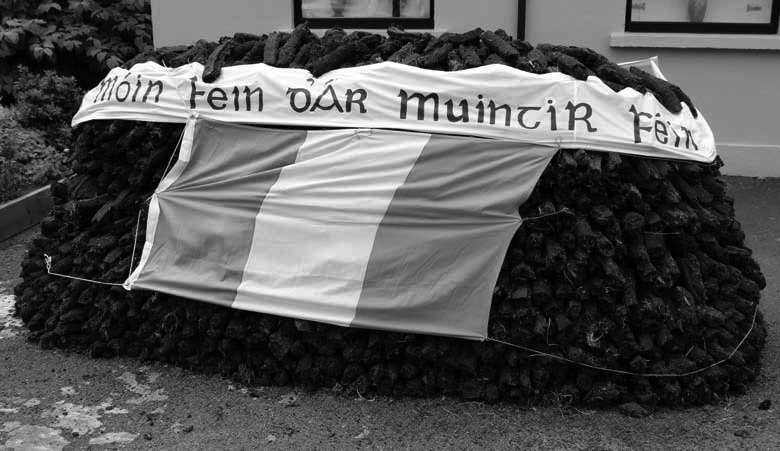 2015 centenary turf stack and tricolour.
Shortly afterwards Fr O'Flanagan was reprimanded by his bishop, Dr. Coyne, and transferred to Crossna parish in Roscommon. The parishioners of Clifoney reacted by going in large numbers to Sligo to request the return of their curate but the bishop did not relent. The response of the Cliffoney people was to close the church by barricading doors and windows to prevent any one from entering. Each Sunday they gathered in the church grounds and recited the rosary.
The impasse lasted until Christmas Eve when following a request from Fr. O'Flanagan, the church was reopened and the saga which became known as the 'Cloonerco Bog Fight' was brought to an end. Coolaney native, Dr. Michael Farry author of 'Sligo: The Irish Revolution 1912-1923' says "Fr Michael O'Flanagan played a crucial role in the development of the national spirit in Cliffoney and in County Sligo. His turbary rights campaign harkened back to the Land League days."
During the O'Flanagan weekend a number of the events of 1915 will be recreated, including a walk to Cloonerco bog on Sunday 28th where Luke 'Ming' Flanagan, a relative of Fr. Michael's will cut a sod of turf recalling the evens of one hundred years ago. A turf stack will be built and decorated outside the newly renamed Fr O'Flanagan hall on Saturday 27th June while a traditional ceili involving local musicians and dancers will take place in the hall. The rosary will be recited in the church grounds on each of the three evenings at 6pm.
There will be an exhibition of newspaper cuttings and a dramatic presentation on the life of Fr. O'Flanagan on the Friday evening in the hall. Creative writing and art competitions are being organised for the children in the local primary schools and there will be demonstrations of local crafts. The local public houses will host traditional music and ballad singing evenings. Luke 'Ming' Flanagan, MEP, will deliver the closing address to the event in the hall.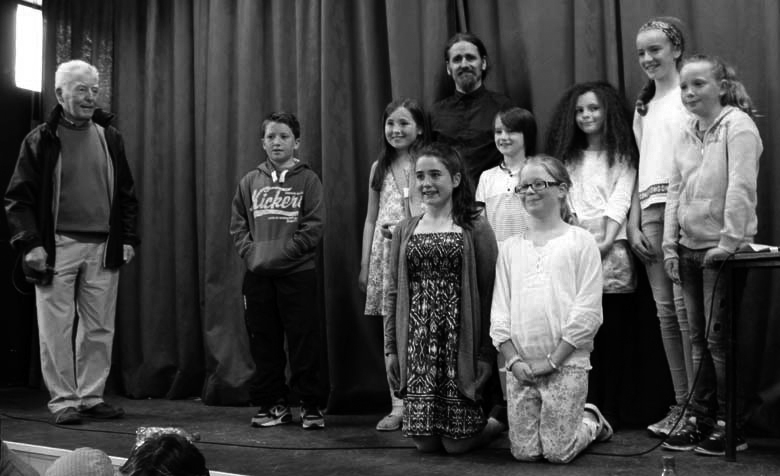 Presentation of awards to the national school prizewinners, Sunday 28 June 2015.
It has been said that O'Flanagan's experiences in Cliffoney marked the beginning of his involvement in national politics. In October 1917 he was elected vice-president of Sinn Féin. His leadership was pivotal in Sinn Féin's general election victory of 1918 as he campaigned throughout the country and was made a Freeman of Sligo in June 1918. Dr. Farry declares that "O'Flanagan's leading role in Sinn Féin led to the early organisation of Sinn Féin clubs in Sligo making it, by autumn 1917, one of the best organised Sinn Féin counties in the country."
O'Flanagan served as president of Sinn Fein from 1933 to 1935. He was an outstanding public speaker and it was he who gave the oration in July 1915 while the remains of O Donovan Rossa lay in state. Michael O'Flanagan was a man of many talents. In later life he was commissioned to write histories of the counties of Ireland in Irish and English. He died on 7th August 1942 and he was given a state funeral.
Contact: The Secretary, The Old RIC Barracks, Cliffoney, Co Sligo.
email: ogma69@gmail.com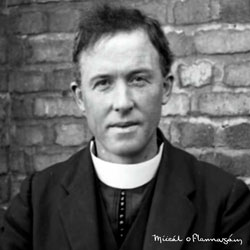 Irish Phonetics 1904
Lacemaking tour 1908
Gaelic League 1910
O'Donovan Rossa 1915
Cliffoney 1915
Elections 1917
Suppressed Speech 1918
Peace Thoughts 1920
Antiquities Article 1920
Australian Affair 1923
Sinn Féin Speech 1934
Spanish Speech 1938
Sean O'Casey 1945
Greaves booklet 1954
Stories of Edward OFlanagan, 1920.


Contact: ogma69@gmail.com

RTE Radio documentary:
The Staunchest Priest
The Staunchest Priest
RTE Radio documentary
Short biography by Tomás Ó Cosdealha
Letter from
Fr Michael O'Flanagan
to Alice Stopford Green
Crosna,
Boyle,
July 30th 1916

My dear Mrs Green,
I enclose testimonial signed by the people of this half parish. I never saw the people so unanimous before. We have two old factions here, as they have I suppose in most places. The leaders of the two factions never cooperated in anything before, but this time they vied with each other in procuring signatures.
Some of us do not like the quasi apology for the execution of the Irish Volunteer Leaders, insinuated in the fourth paragraph but we are willing to waive that point for the purpose of doing our part for Roger Casement. The men who were executed in Dublin are to us martyrs & heroes, & the Government that ordered their execution are guilty of a great crime.
We know that Roger Casement would gladly join the glorious band of those who have given their lives for Ireland.
But not all of us hold these views. One thing we are all agreed upon, & that is the desire that Roger Casement should not be executed.
Yours faithfully

M.O'Flanagan C.C.