The Rolling Sun of Boheh
There is an ancient pilgrimage route running from Ballintober Abbey to the summit of Croagh Patrick. It probably extends back east to Rathcroghan, the palace of Queen Maeve, the Iron Age ruler of Connaught. Westport researcher Gerry Bracken was cataloging monuments in the Westport area when he came across an unusual site, known as St Patrick's Chair, or the Boheh Stone which is located on the pilgrimage trail south east of Croagh Patrick. The sequence of photos below was taken in 2000.





This monument is covered in cup and ring marks, and turns out to be the only known example in Connaught, as well as one of the finest examples in Ireland. Gerry discovered that on two days in the year, the setting sun, when viewed from this spot, touches the summit of the Mountain, then proceeds to 'roll' down the northern slope. The angle of the Mountain's side matches the declination (setting angle) of the sun at this time and place.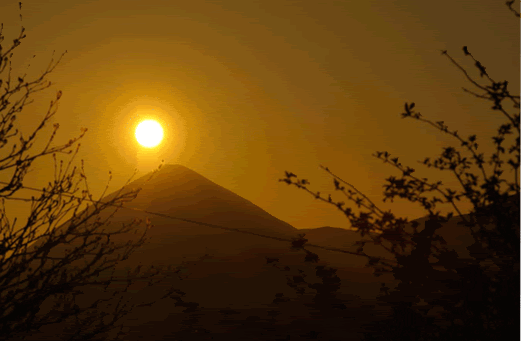 The dates are April 18 and August 24, dates which along with the winter solstice divide the year into three.