The Lough Arrow megalithic complex
Like the other passage tomb clusters in Ireland, the Carrowkeel complex has a distinctive atmosphere and environmental setting. The landscape which the monuments appear to celebrate is not only unique in Ireland for its geology, but for the outstanding drama of its cliffs and glacial valleys. The complex is distinguished by its degree of preservation, which is remarkable in a European context. Significantly, no modern reconstruction work has been carried out there, as occurred at other megalithic complexes such as Locmariaquer in Brittany, or in the Boyne Valley.

A century of archaeology—
historical excavation and modern research at the Carrowkeel passage tombs, County Sligo.
Carrowkeel, the most beautiful and mysterious collection of the Irish megalithic monuments, is part of an extensive landscape settled by early neolithic cattle-farmers from Brittany. At Carrowkeel, a remarkable series passage-graves were constructed in stages beginning around 3,500 BC, across the highest summits and ledges of the Bricklieve Mountains in County Sligo. The monuments, which served as the final resting places of specific people within the neolithic community, would also have functioned as territorial markers for an expanding colonisation of the region.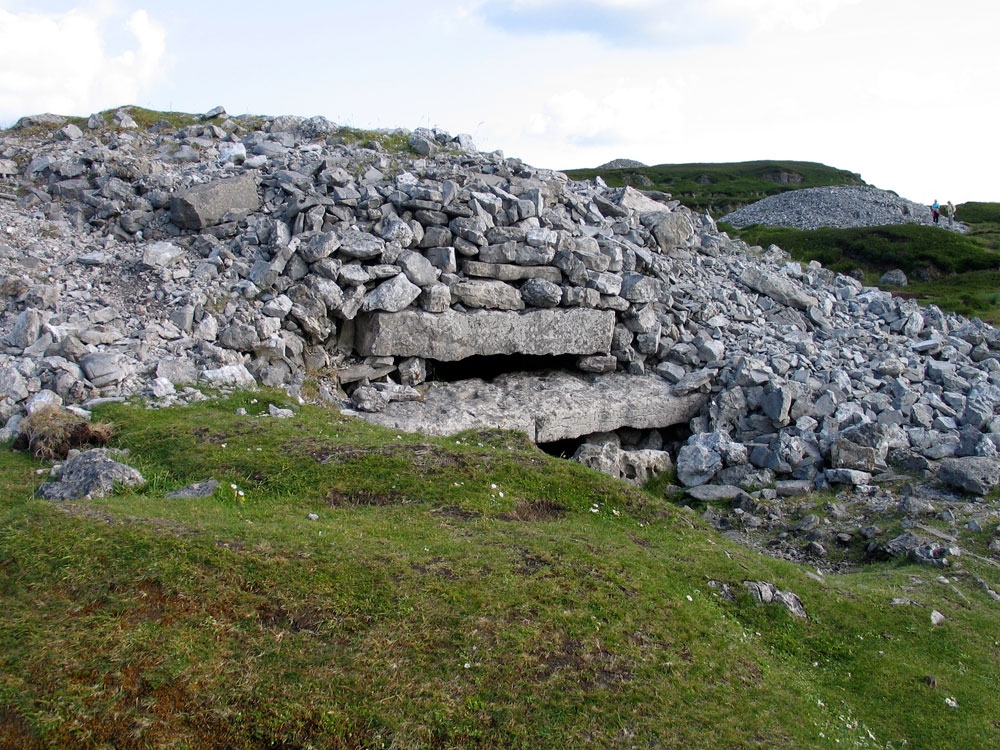 The cairns are situated on the limestone ridges high above the western shores of Lough Arrow, close to the village of Castlebaldwin. There are fourteen neolithic passage-graves in the townland of Carrowkeel, and several more monuments are found on the summits to the west. The highest monument is Kesh Cairn on the north end of the long flat summit of Kesh Mountain to the west. The largest of all the monuments is Heapstown cairn, located on the nortern shore of Lough Arrow on the banks of the River Uinshin.
Neolithic Colonists.
This region around Lough Arrow became home to a large colony of early neolithic cattle-farmers who arrived from Brittany and settled on the north-west coast of Ireland in the years before 4,000 BC. The oldest neolithic monument in the region is the causewayed enclosure at Magheraboy, which can be dated to 4,150 BC. The oldest domestic cattle remains discovered in Ireland, which were found at Ferriter's Cove in County Kerry, dating to 4,350 BC, may well be from an early unsuccessful neolithic attempt to settle Sligo.
Close to Magheraboy is the massive early neolithic complex at Carrowmore, where a a huge ring of early passage-graves surrounds the focal monument at Listoghil. The Carrowmore and Carrowkeel landscapes are joined by the umbilical connection of the Uinshin river, which flows from Lough Arrow, past the enormous Heapstown cairn and on to Ballisodare Bay to the north-west.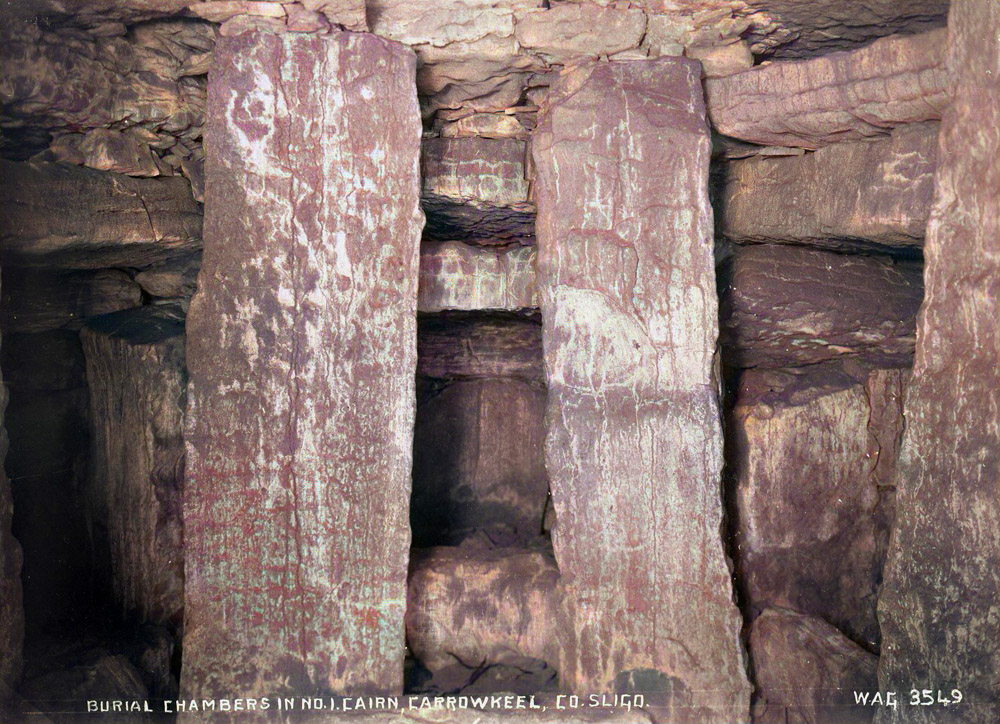 The name "Bricklieve" translates as Breac Sliabh, Speckled Mountain; the word Speckled can mean many things in old Irish including a magical portal or doorway. There are two other famous Speckled sites in County Sligo: the holed standing-stone at Tobernaveen near Carrowmore and the infamous Cursing Stones on the island of Inishmurray.