There are four main types of megalithic monument to be found in Ireland. These are chambered cairns (also known as passage tombs or passage graves) with perhaps 300 - 500 in the country. Court cairns, (court tombs), about 400, dolmens (portal tombs or cromleacs), some 190 examples and wedges, again around 400 monuments. A fifth type or category are unclassified monuments of which there are at least 200. There is a sixth much smaller group, called Linkardstown cists, not very common.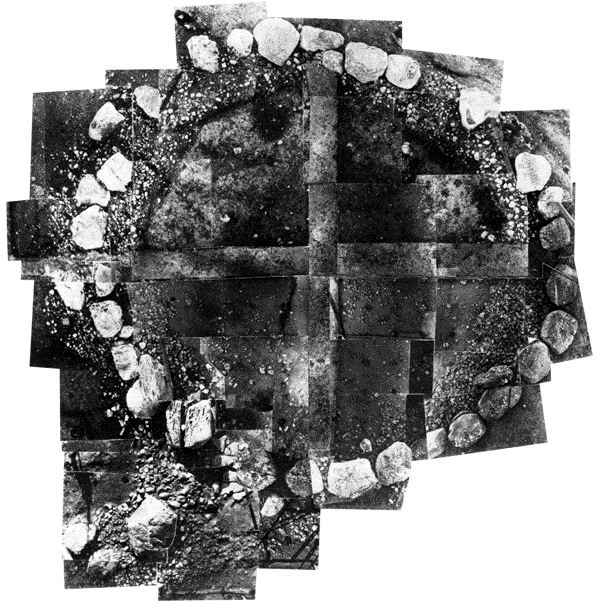 Photomontage from the excavation of Circle 26 at Carrowmore in County Sligo.
Chambered cairns are the main type of megalithic/neolithic monument dealt with on this website, as they were the first to attract my interest, mainly due to their fabulous art and astronomical alignments. These structures are found in most European countries with large and well preserved concentrations found in France and Ireland. I was lucky, in fact I feel privilaged, to have lived at Carrowkeel in County Sligo, one of the major Irish complexes, for 10 years. Moytura, on the east shore of Lough Arrow is one of the best places to see the four types of monument. Heapstown and Shee Lugh are passage graves; the Labby Rock is one of the larger dolmens in Ireland; there are a number of wedges and an unusual court structure, as well as many tall erratic standing stones.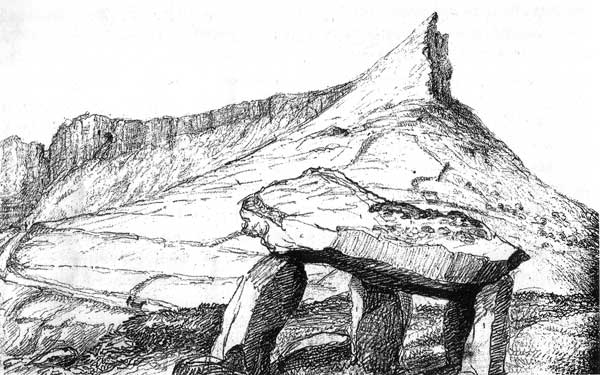 Clough portal dolmen, the Trillick of Ballintrillick in County Sligo was destroyed around 1950
There are similarities and differences between the types of monuments. Courts and dolmens are thought to be the oldest types, dating to about 4,000 BC, followed by passage graves, 3,800 BC onwards and wedges on the threshold of the bronze age. There is a huge amount of variety to the 1,600 or so megaliths remaining in Ireland. Some are huge like the Boyne Valley cairns, some are tiny like the circles in Carrowmore. Many have been destroyed where they made convienient building materials or stood on good farming land. Others are so ruined that there is little left to see of the monument, but the landscape settings are often quite dramatic. Some are in great condition and easy to visit like the Labby Rock and Creevykeel in County Sligo.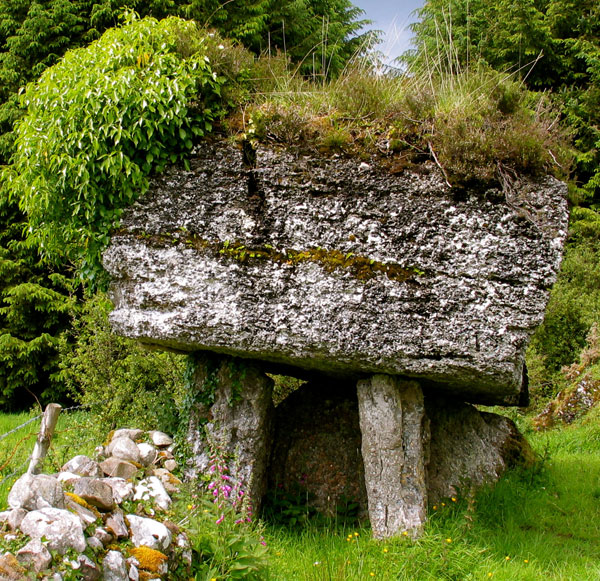 The gigantic Labby Rock on Moytura in County is a fine example of a dolmen; the capstone weighs about 75 tons.
Court cairns come in all shapes and sizes, and many monuments are quite ruined. There are only 12 of the great central courts, of which Creevykeel is the best example; all found in the northwest around Donegal Bay. Courts are not found in the south of the country; all but five are found in the northern portion of the island. More information on the court cairn page.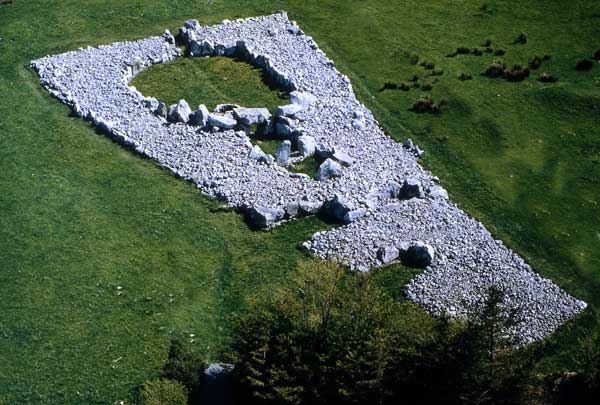 An aerial view of Creevykeel near Cliffoney village in County Sligo, one of five monuments in the area. The modern wall has been digitally removed from this image.
Dolmens seem to markers for boundaries or territory. They are often found in valleys close to a stream, and the view does not always seem too important. Dolmens are well known for their large imposing capstones; Irish dolmens range from about 10 tons at Carrowmore to an estimated 100 tons at Brownshill in Co Carlow. Some of Ireland's largest dolmens are found in County Dublin, though many are collapsed. We could do with a national dolmen rebuilding programme in Ireland. More on the dolmens page.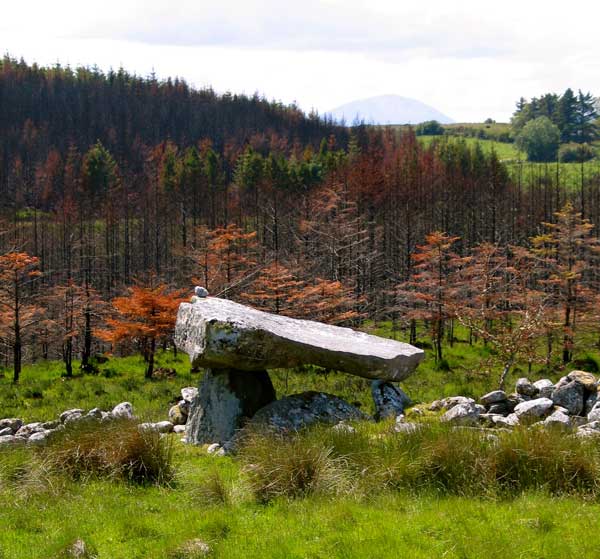 The Giant's Griddle in Tawnatruffan in west County Sligo, view looking west to Nephin.