Types of megalithic monuments of Ireland
In Ireland this world and the world we go to after death are not far apart.'
W. B. YEATS.
There are four main types of megalithic monument to be found in Ireland. These are chambered cairns (also known as passage tombs or passage graves) with perhaps 300 - 500 in the country. Court cairns, (court tombs), about 400, dolmens (portal tombs or cromleacs), some 190 examples and wedges, again around 400 monuments. A fifth type or category are unclassified monuments of which there are at least 200. There are similarities and differences between the types of monuments; some specifics are: courts and dolmens are thought to be the oldest types, dating to about 4,000 BC, followed by passage graves, 3,500 BCish and wedges on the threshold of the bronze age. Neolithic art is almost always found on passage graves; dolmens are often found in valleys near a stream or river; views were not important in the location of courts, while they were of utmost importance in the siting of passage graves. Passage graves demonstrate a great interest in astronomy.
Chambered cairns are the main type of megalithic/neolithic monument dealt with on this website, as they were the first to attract my interest, mainly due to their fabulous art and astronomical alignments. These structures are found in most European countries with particularly large and well preserved concentrations found in France and Ireland. I was lucky, in fact I feel privilaged, to have lived at Carrowkeel in County Sligo, one of the major Irish complexes, for 10 years. Moytura, on the east shore of Lough Arrow is one of the best places to see the four types of monument. Heapstown and Shee Lugh are passage graves; the Labby Rock is one of the larger dolmens in Ireland; there are a number of wedges and an unusual court structure, as well as many tall erratic standing stones.
The Song of the Chanter, an ancient harp piece set to a slideshow of Irish Sacred Sites.
Music by Tale of the Gael.
The word 'cairn' means a heap of stones in Irish. A general description would be a large mound of stones, contained by a ring of kerbstones which are usually much larger than the cairn stones and laid end to end. Megalithic chambers are really artificial caves built as free standing structures from large slabs of stone, and infact many of the earliest megaliths in County Sligo are found near caves. The megalihtic structures are then covered by a heap of stones, which both stabilises the freestanding structure, defines the monument visually from a distance, and creates a viewing platform which can be used to survey the horizon. Some sites have external features such as standing stones, stone settings, raised banks and stone boxes known as cists. Two monuments, Cairn F at Carrowkeel and Cairn L at Loughcrew have standing stones within the chambers.
Many chambered cairns are oriented to heavenly bodies, including the moon, though most of the work in this field has tended to concentrate on the sun. Below are links to each type of monument. To most archaeologists, megalithic monuments are tombs, places where the bones of the ancestors were laid to rest. However, the numbers don't really add up. In many sites no bones or cremations were found at all; in others such as Newgrange, the remains of only five people were found. Newgrange is much more like a temple/cathederal than a tomb.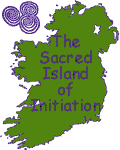 Guided Tours
Irish music
Links
Contact
Dolmens
Court cairns
wedge-shaped chambers
Chambered cairns
Megalithic art
Map of Irish sites
Map of County Sligo
Map of the Coolera area
Map of Lough Arrow
Map of Carrowkeel
Heapstown cairn
Kesh Cairn
Knocknarea
Queen Maeve's cairn
www.creevykeel.com
www.carrowmore.com
Moytura
The Labby Rock
Caves of Kesh
Knocknashee
Neolithic village
Abbeyquarter
Lisnalurg
Sheemor
Knockma
Cong
Croagh Patrick
The Burren
Glencolumbkille
Loughcrew
Equinoxes at Cairn T
Quarter days at Cairn L
Newgrange
Winter Solstice
Knowth
East chamber
West chamber
Dowth
Tara
Fourknocks