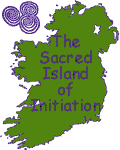 Irish traditional music
The traditional music played today in Ireland is one of the most wonderful aspects of our muddeled culture remaining to us.The story of traditional Irish music is as interesting as any other aspect of Irish culture. There is a long tradition of music and melody coming from the landscape of Ireland Iit is featured throughout Irish mythology as when the harper Corann, a musician to the Dagda at Newgrange, puts the rampaging sow Cail Cheis to sleep with his enchanting music; this magical musical enegry, which links in with the Tuatha de Danann and the huge cosmic churn on the worlds polar axis spills out from the mountain of Kesh Corann in County Sligo. This raw enegry is perfectly captured by the Bothy Band on the Kesh jig set at the start of their first album.
The Bothy Band.
Hearing the Bothy Band inspired me to give the fiddle a go; I brought one in Grehan's of Boyle not long before it closed and enrolled in the Drumshanbo school of music. Now 10 years later I play fiddle, banjo, and am learning the uilleann pipes.
Paul Dooley playing his own handmade clarseach, the original Irish harp, with a willow frame and wire strings.
The harp is the oldest Irish instrument, and is frequently mentioned in Irish mythology. Older tunes tend to be simpler, such as some of the medieval marches like O'Moores March and Brian Boru's march. The Irish clarseach is much different to the modern Celtic harp - smaller, and so much more portable, wire strung and played with the nails, which must be kept long and strong, and no levers to change key. The clarseach has two bass strings tuned to G called the Sisters, and besides the myths and legends there is evidence that ogham inscriptions are related to harp music and notation. For more information see www.wirestrungharp.com/
James Scott Skinner, Scottish fiddle virtuoso and composer 1843 - 1927.
The fiddle was the most popular instrument in the south Sligo area surrounding Carrowkeel. Three of the best known Irish fiddlers from the 78 era came from the area around Ballymote - Michael Coleman, James Morrison and Paddy Killoran. All were in some way influenced by the playing of Scottish fiddle virtuoso James Scott Skinner, the Strathspey King, a prolific composer. Read his biography here.
Michael Coleman 1891 - 1945.
John Doherty.
John Doherty.
Felix Doran.
Michael Coleman.
Seamus Ennis.
John Gordon.