Musical Guided Tours of Sligo's Historic Sites.
In our six months of correspondence concerning the Gilloon family visit in Ireland, and, after one would call a most diligent and encompassing, maybe exhaustive, exploration of our past ancestors from the Sligo area by Meg and Martin Byrne, we came to experience one of the most wonderful and unique places to us we have ever known. What made all the work of the Byrnes so remarkable in unearthing our past was that they traced our Irish roots all the way back to the O'Rourkes rule, then to service at Parke's Castle, then onto Lissadell, and eventually to flee to America. Their work put into perspective the arduous nature of early farming practices of the time, under English rule.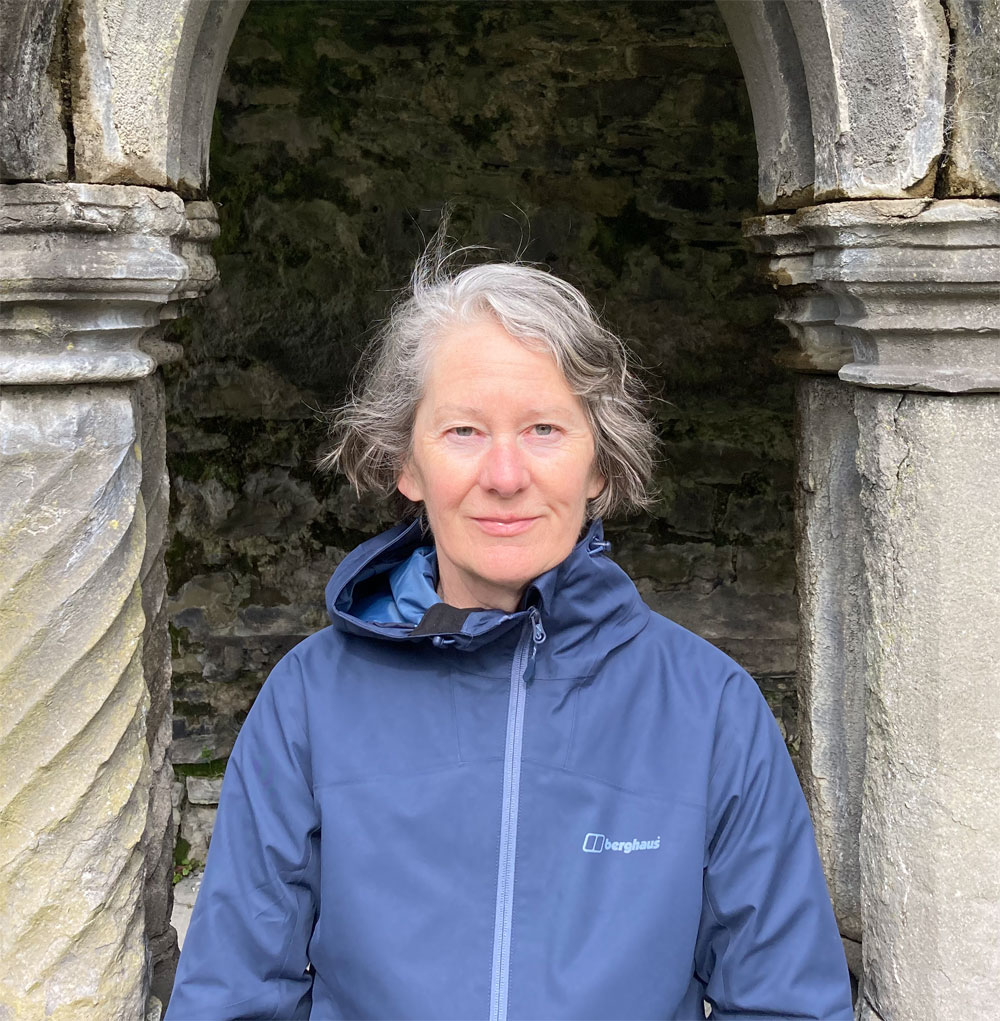 My interest also lay in the megalithic tombs that are dispersed throughout the area—such a rich bounty of history here. Through our correspondence, she and Martin developed a plan for us—our ancestors, the last to live in Ireland, are kept at Carrigens graveyard, and they found those, for us to do rubbings. There service did not end there: they also found a farmer, who lived next door to our Gilloon farm at Doonfore, who came to speak with us, because he grew up knowing them- a chance of a lifetime. All this and more was delivered and scheduled for our time in Sligo. Yes, Carrowmore, Drumcliffe Church, and the spotting of Gilloon's hill, under the ever watchful eye of Benbulben and Knocknarea, was in the offing that day, with Meg's excellent tutelage, and for the six of us7mdash;it was a day like no other. Even the weather cooperated- glorious!
Two days later we had the opportunity to glean the history behind Sligo Abbey's storied past, this time with Meg's husband and historian, Martin Byrne. It was another excellent day—his research will undoubtedly uncover new and exciting insights into that historic building. Their recommendations for us included, the new Jack Yeats exhibition in town, and various restaurants recommended—like the Glass House, which we so eagerly entered—what a treat!

I can only say that without Meg and Martin Byrne's copious research and attention to detail, we would be so lost—this made our trip totally worthwhile, and for this we are truly blessed and most assuredly grateful.

Meg, you and Martin are the BEST. 5🎖️Stars.
Thank you,
Always, and forever friends,

Jon and Peggy Gilloon, Ann Gilloon, Kathryn (Gilloon) and Keith Larsen, with Keegan, Shreveport, Louisiana, USA