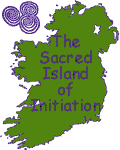 Destruction at Carrowmore
The dolmens and circles at Carrowmore have suffered much destruction over the years. The monuments appear to have remained intact until the decade or so before the Great Famine, when gravel quarrying and land clearence became more intensive. Landlords from England who had inherited property leasted land back to tenants through agents, and there was a big drive to improve land and exploit natural resources. Carrowmore was used as a gravel quarry and there are plenty of large pits to be seen today, where circles formerly stood.
In all, some twenty seven monuments remain at Carrowmore today; there were up to sixty circles or sites originally. Their state of preservation varies considerably, from some sites, such as circles 21 and 22, which are largely destroyed, to Circle 7 which is the only complete monument. A large swaith of sites were removed on the east, south and south-west portions of Carrowmore. There are several fields which are completely clean and smooth, while the field beside it is littered with boulders.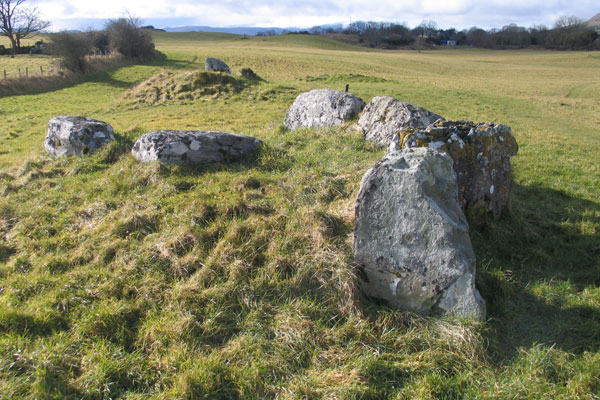 The largely destroyed monument at Site 58 may be the remains of a wedge monument.
George Petrie was on hand in 1837 when several of the circles in the east side of Carrowmore had just been destroyed, and his notes are all the evidence we have of several circles. His Carrowmore records are full of entries such as: "This circle, with its fine cromleac, was destroyed within the last week (i.e. August, 1837) by Mr. Chambers of Cloon Hill."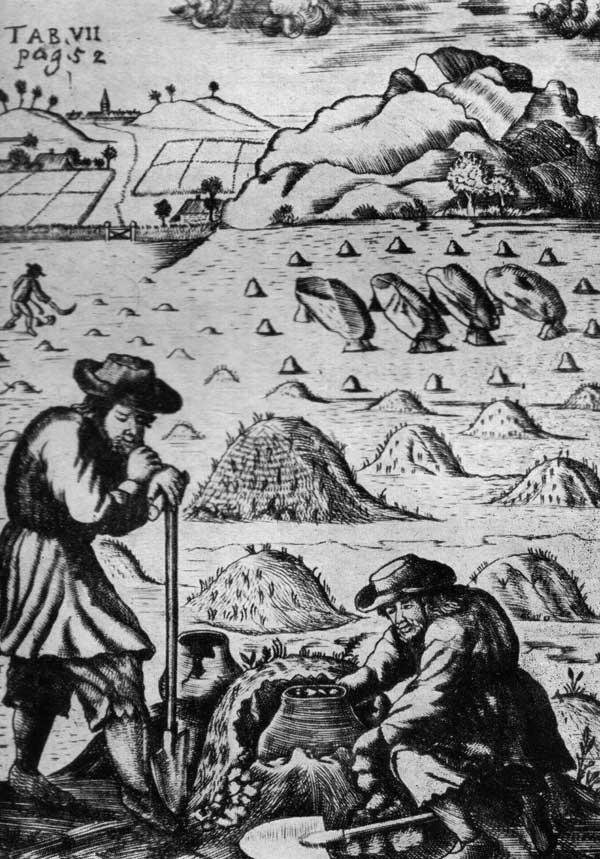 This scene, from a woodcut of 1713, gives a good idea of the excavations of the past. The two men in the picture are taking a pottery vessel from a burial mound. Immediately behind them are other tumuli, while in the middle distance can be seen a gallery grave surrounded by a stone circle, possibly the remains of the kerb which kept the original mound in position. From Joseph Raftery's 1953 book, Prehistoric Ireland.
In the 1980's Sligo County Council proposed to turn Carrowmore into the county landfill dump. This crazy proposal suggesting to fill the quarries with litter was overturned in the high court. The Swedish excavations were hugely important in highlighting the significance of Carrowmore, and the site is now preserved. It would be wonderful to have all the circles open to the public, as it is only by walking a circuit of the entire complex that one can get a true picture of the scale of Carrowmore.