Dating the Carrowmore monuments.
The first visitors to write about Carrowmore believed the site to be the cemetery of the warriors who were killed during the mythical Second Battle of Moytura. Many early researchers visited the complex and commented on the antiquity of the dolmens or cromleacs as they were named. The term dolmen seems to have come into use some 200 years old when it was used to describe the Table de Marchand in Brittany, the homeland of the Carrowmore people.
Reverend William Henry speculated on the origins of the builders in 1739:
What Ancient Nation inhabiting Ireland contrived the last described Supulchral Monument, it is not easy to ascertain, probably these Aborigonals were the same with the Gauls and Druids, the first inhabitants of Great Britain. These kind of Monuments being found in some parts of Great Britain, and nearly resembling that stupendous one of Stone Henge in Salisbury Plains which is supposed to be the Work of the Ancient Gauls and Druids.
By the 1970's the Carrowmore monuments were considered to be a degenerate form of passage-grave (a term coined by Michael Herity) built by the jaded descendants of the brilliant people who built Newgrange and the huge mounds in the Boyne Valley. That scenario saw the passag-grave people arrive on the east coast of Ireland where the mega-monuments are found. As the builders migrated west their monuments were imagined to devolve into simpler and simpler forms until you arrive at Carrowmore.
Before radiocarbon dating this type of monument was believed to date to the Bronze age, which began in Ireland about 2,500 BC.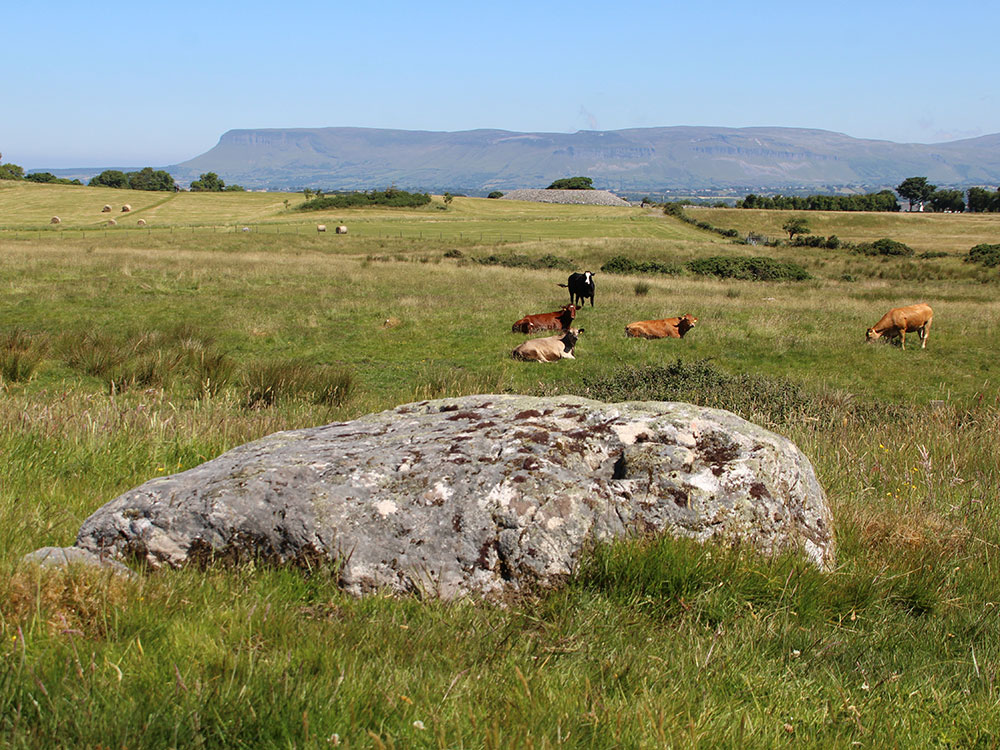 Göran Burenhult
The first modern researcher to attempt dating Carrowmore was Göran Burenhult, who conducted a series of excavations between 1977 - 1982 and again from 1994 - 1998. Burenhult's conclusions, based on early dates from charcoal samples, was that Carrowmore was a primal site where mesolithic hunter-gatherers were transforming into neolithic farmers independently from continental influences. The Carrowmore passage-graves were an extremely early homegrown, indeginous expression of the native mesolithic people.
Burenhult's most remote date from Carrowmore, 5,400 B.C., was extremely early and most Irish archeologists have long dismissed as being too old, and more likely to be a possible indication of mesolithic activity. However, these exciting and contraversial dates made world headlines, helped by Burenhult's media-friendly approach, and it is still quite common to find them listed among the oldest buildings in the world.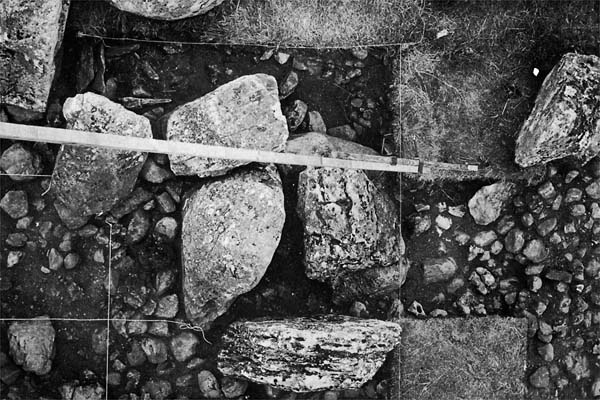 Stones and Bones
In 2002 an archaeology seminar called Stones and Bones was held in Sligo in honour of Michael O'Kelly, the excavator of Newgrange. Göran Burenhult (who was invited to dig at Carrowmore by Professor O'Kelly), who hosted the seminar, defended his dates and introduced his latest research from Primrosegrange a court-tomb close to Carrowmore.
Another date of 5,800 BC was taken from a piece of charcoal under the chamber on the summit of Croghaun, a distcintive peak a few kilometers south of Carrowmore.
Burenhult maintained that his dates, taken from samples of charcoal, represented the construction or foundation of the monuments. Others argued that these charcoal samples may have been from earlier fires; passage-graves are often built on sites taken over from the earlier mesolithic people.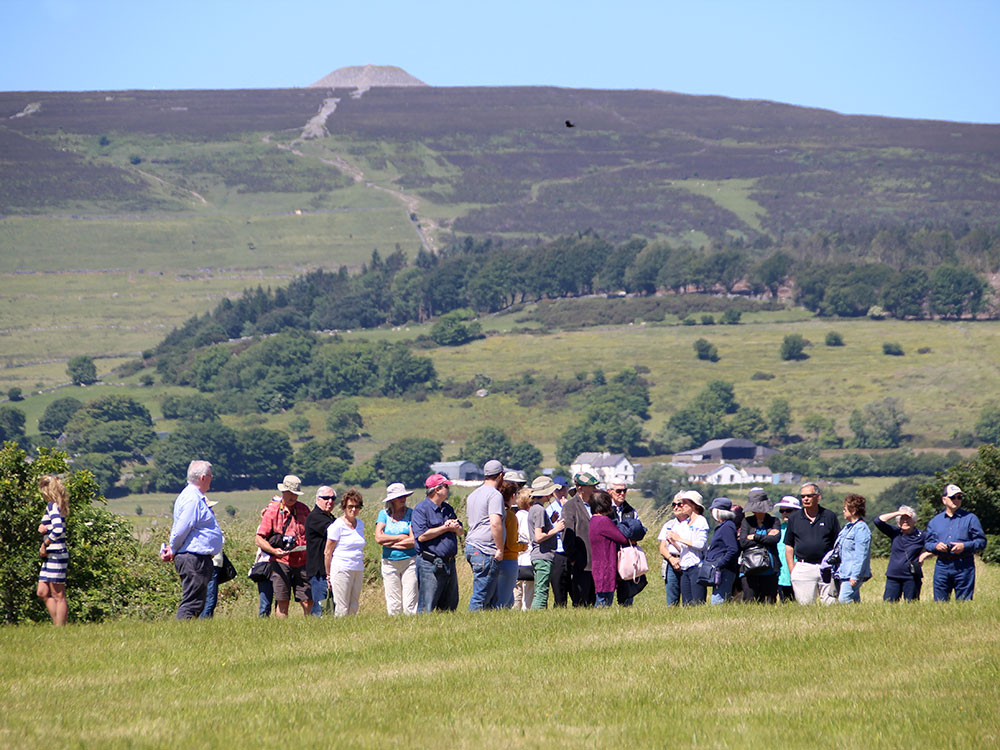 Burenhult's dates for Carrowmore circles:
Tomb 1 c.4300 cal BC: charcoal from stone socket.
Tomb 4 c. 5400 and 4600 cal BC respectively: from charcoal in foundation sockets in cist;
c. 4100 and 4000 cal BC respectively: charcoal from stone sockets;
c. 3800 cal BC charcoal from stone socket of passage;
c.3000 cal BC: charcoal from secondary inner stone circle;
Five dates between 3300 and 2500 cal BC.
Tomb 7 c. 4200 cal BC: charcoal from post hole in central chamber.
Tomb 19 c. 3950 cal BC: charcoal from cremation in central chamber.
Tomb 27 c. 3950, 3900 and 3850 cal BC respectively;
charcoal from stone packing outside the central chamber.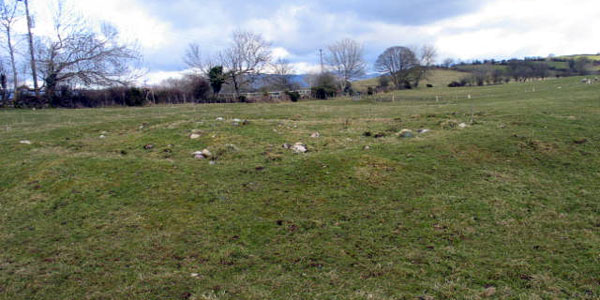 Burenhult, G. 2003 'Megalithic Chronologies'. In G. Burenhult (ed.) Stones and Bones: formal deposition of the dead in Atlantic Europe during the Mesolithic-Neolithic interface 6000-3000 BC.
Unpicking the Chronology of Carrowmore
However, not everyone was convinced by Burenhult's ideas and interpretations, and his dates remained contraversial. In 2012 Stefan Bergh and Robert Hensey published a paper titled Unpicking the Chronology of Carrowmore which examined Burenhult's dates and went on to establish a range of dates for the use of Carrowmore using samples of red deer antler pins found in the cremations. The antler pins, excavated in Circle 3 and Circle 55, gave a range of dates for burial from 3,800 to 3,000 BC.
These dates fit in well with the earliest known causewayed enclosure in the British Islands, found at Maghernaboy close by, founded around 4,150 BC. It is also fascinating to think that red deer were extcinct in Ireland at the time, having died out at the end of the ice age. Either the live animals or their antlers were exported to Ireland from the continent.