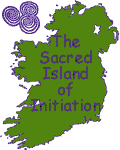 Carrowmore - Finds
The type of artifacts and burials found at Carrowmore are the main reason the monuments are grouped with the other chambered cairn clusters at Carrowkeel, Loughcrew and the Boyne Valley.
The type of artefacts found are typically fragments of quartz, chert or flint; pieces of pottery and one complete pot; pieces of antler, bone pins with poppy or mushroom shaped heads; limestone marbles, beads and pendants, usually with a perforation, of various stones and materials. A beautiful pendant made from a perforated piece of rock crystal - quartz - was found in Circle 4. A selection of these artefacts are on display in the National Museum of Ireland in Dublin.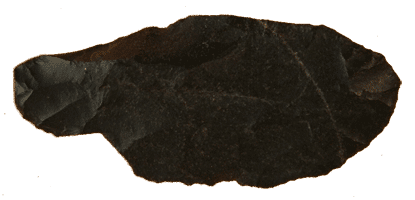 Cremated human remains were found in large quantities - some 28 kg came from Circle 4 alone. Large quantities of animal bone - from many different species - were found in the chambers by Walker and Wood-Martin. These may be the remains of feasts that were held in the circles at various times in the past. Some of these lists are reproduced on their pages, from Borlase's account in Dolmens of Ireland.
The results of some of Roger Walker's diggings in Carrowmore are in the antiquities collection in Alnwick Castle. These include a fine flint spearhead which came from Site 51 and some 14 - 20 flint flakes and arrowheads. However, in general Walker was more of a treasure hunter than an archaeologist, and most of his finds and activities were not recorded.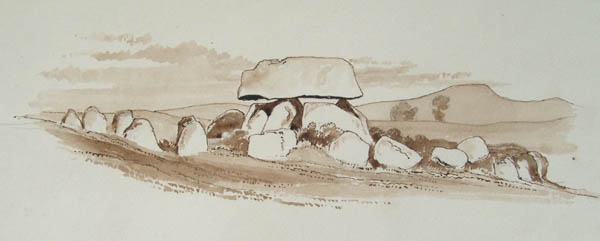 A flat, circular ring of bone was found at Site 27. It was thought to be carved from whale bone, but is now considered to be a piece of walrus tusk. There is still a large colony of seals living on the sand flats in nearby Ballisodare Bay. Another broken artefact, similar in appearance was found at Site 1.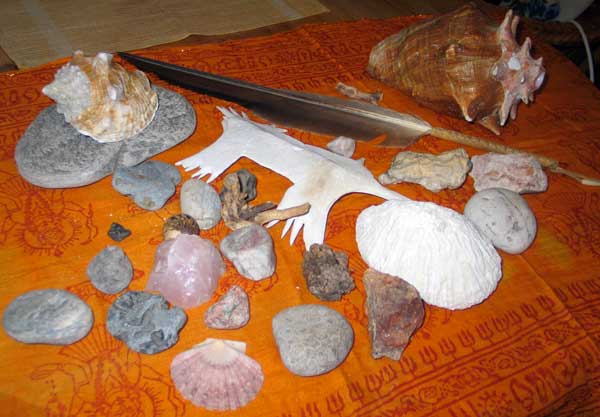 A range of the type of grave goods from Carrowmore.