The Mythology of Tara
There is a vast abundance of mythological material relating to Tara, and it is mentioned in many of the Irish stories, when events often occur at Samhain. The hill is said to be named after Tea, a goddess. The hill is also associated with Queen Maeve, a landscape goddess, probably imported from Connaught during the medieval times.
The hill is said to be a residence of Lugh of the Long Arm, one of the chief deities of the Tuatha De Danann and hero of the Second Battle of Moytura by Lough Arrow in County Sligo. One of the monuments at Tara is a huge ringfort called Rath Lugh, now partially ploughed out and destroyed, is named after Lugh.
An episode from the Second Battle of Moytura takes place at Tara, when Lugh comes to visit and offers his services to the Tuatha De Danann. To gain entrance he undertakes a series of challenges and tasks, and eventually bests every champion in the hall. Nuada, the king asks Lugh to lead in his place and take over the directin of the Dananns for the coming battle.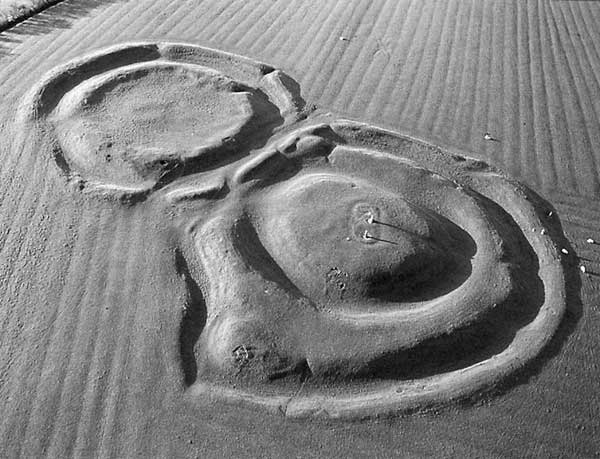 Cormac Mac Art, the most famous of the kings of Tara was born by the Caves of Kesh in County Sligo. Cormac, who was raised by wolves, came to Tara as a youth, and became king by ousting his father's killer when he made a fair judgement in a legal case.
A large barrow, Rath Grainne is named after Cormac's daughter Grainne, who was engaged to Fionn MacChmhal, but famously eloped with a handsome young warrior, Diarmuid instead. Outraged, Fionn gave chase resulting in a whole cycle of tales, and many megalithic monuments being called 'Leaba Dairmuid agus Grainne', as the fleeing couple had to sleep in a different place each night.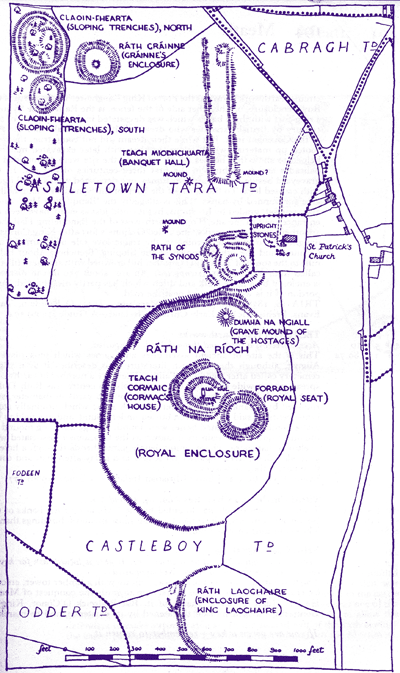 Fionn, Ireland's famous mythical warrior had one of his first adventures at Tara. Applying for membership of the Fianna, he was given the task of keeping guard over Tara at Samhain. Every year, a maolvolent fire-breathing member of the Tuatha De Danann named Ailill would emerge from the Sidhe mound (presumably the Mound of the Hostages) and burn Tara. Fionn defeats the fire breathing Sidhe-dweller and joins the Fianna, before long becoming its most famous leader.