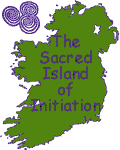 Cloghcor portal dolmen
This fine dolmen is found on the summit of a drumlin near the end of the Magherow peninsula, to the west of north County Sligo. The dolmen is in an unusual location: typically they are found in sheltered locations, usually in a valley near a stream. The Cloghcor dolmen commands fine views of the surrounding countryside, especially to the south, where Knocknarea and Queen Maeve's Cairn stand out across Drumcliffe Bay.
The monument consists of two massive portal stones, each more than three meters high. The stones are of an ingeous rock, perhaps gneiss, and have many fine veins of quartz crystals running through them.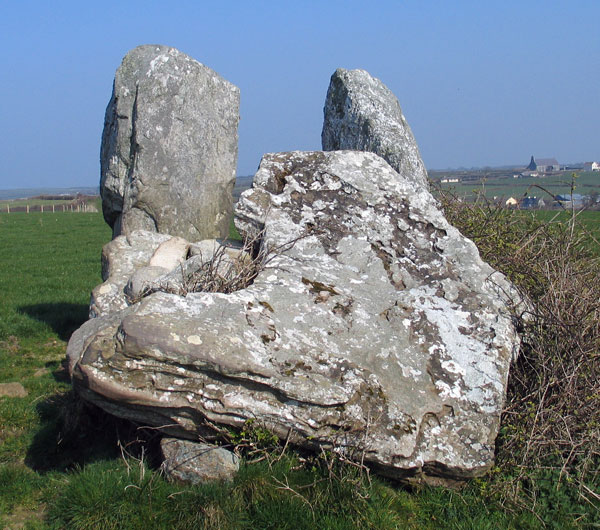 The colossal capstone of the Cloghcor dolmen.
The massive sandstone capstone has slid backwards off the portals, and now lies behind them. When complete it would have been a truely imposing monument, highly visible from many miles around. Leo Leyden, the landowner is an enthueastic archaeologist and has found many monuments walking the local landscape. A collection of quernstones he has found rest in the hollow of the capstone.
There are two other megaliths close by: the central court in the filed near Maugherow church, a few hundred meters to the north, and a largely ruined, unclassified monument near the shore not far to the east. The impressive promnitory fort at Knocklane is closeby.