Streedagh
Streedagh is a beautiful strip of land with a long beach along the coast of north Sligo, close to Ahamlish and the magical island of Dernish. Today Streedagh is famous for its connection with the Spanish Armada in 1588 when three ships sank off Streedagh Point.
There are two fine stone-age monuments close to the beach, a wedge which is easy to access in the sand-dunes overlooking the Island of Inishmurray, and the remains of a court-tomb which is somewhat harder to find. Both monuments have fine views of Benbulben, Benwisken, and the other heads of the Dartry Mountains.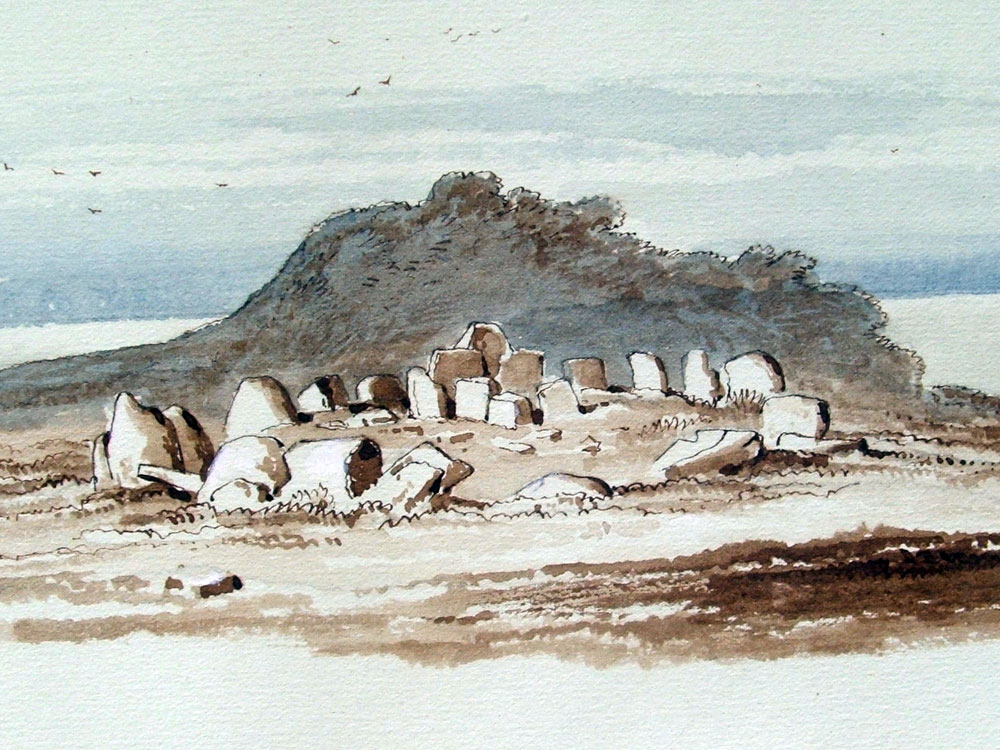 The wedge-tomb at Streedagh is sited in a very beautiful location, up on the sand dunes on the north end of the Back Strand. The monument was exposed by a violent storm around 1840, when the covering of sand was cleared off the wedge by the elements. The wedge, which has never been excavated, probably dates to around 2,500 BC, the period at the end of the Irish neolithic and beginnings of the Bronze age.
The monument consists of a chamber constructed of limestone slabs, measuring 3 meters long by 1.5 to less than a meter wide. The chamber is at the center of a circle of boulders some 11 meters in diameter, and the orientation is to the northeast. It was known locally in Wood-Martin's time as the Grave of the Wolfhound.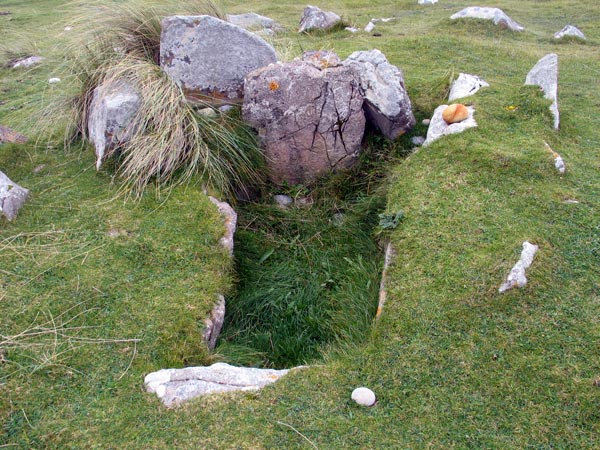 There are stunning views from this monument in all directions. Sitting perched on the dunes, it overlooks the majestic escarpment of Benbulben and the Dartry Mountains to the east. To the south is Knocknarea and Queen Maeve's Cairn. Knocknarea looks quite lobsided when viewed from its north side, while it looks symmetrical and balanced from the south (eg, Carrowkeel).
To the south west is Nephin mountain, almost 70 kilometers away in County Mayo. Nephin marks the position of the winter solstice sunset when viewed from the wedge. To the west there is a fine view to Inishmurray island. Streedagh is the closest point on the mainland to Inishmurray.