Cairn L
A 20 minute walk west across the fields from the Loughcrew carpark brings you to Cairnbane West. In recent years visitors have not been allowed to visit this hill by the landowner, which is a great shame as there are many wonderful monuments on the summit. There are many sheep on the fine farmlands between Carnbane east and west.
Just inside the gate, you can see a low round mound, like a barrow some 12 meters in diameter and a recently erected decorated stone slab. This is one of two destroyed mounds. Walking west, you pass the smaller hill, Sliabh Rua, with Cairn M on the summit, and then a large circle of stone slabs which looks like a cashel from the late Iron age. There is another large circle similar to this on the other side of the central hill.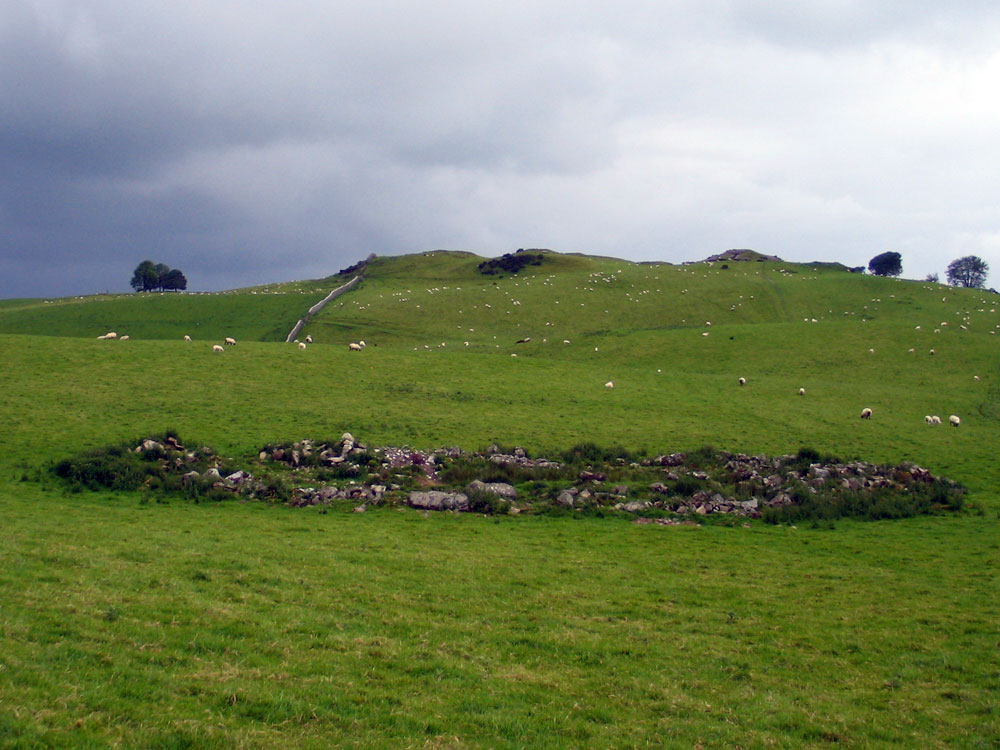 Cairn L, sits perched on the eastern slope of the hill, the second largest mound of the fifteen sites on this summit. The site looms dramatically, and really is located in a spectacular position.
The gate to enter the cairn is locked, and at the time of writing the key is not available to the public, a sad situation since this chamber has some of the most impressive art at Loughcrew.
The cairn is about 40 meters in diameter, a little larger than Cairn T on the opposite summit. There are 41 kerbstones, several of which have fallen over, and none of which appear to be carved. As is quite common with these monuments, the kerb tends to flatten near the entrance.
A lot of the cairn material has been removed from inside the kerb, and about half of the outer part of the passage is missing, replaced with stone walls as can be seen in the picture above. The roof of this monument had collapsed, and was repaired with concrete by the Bord of Works in the late 1940's.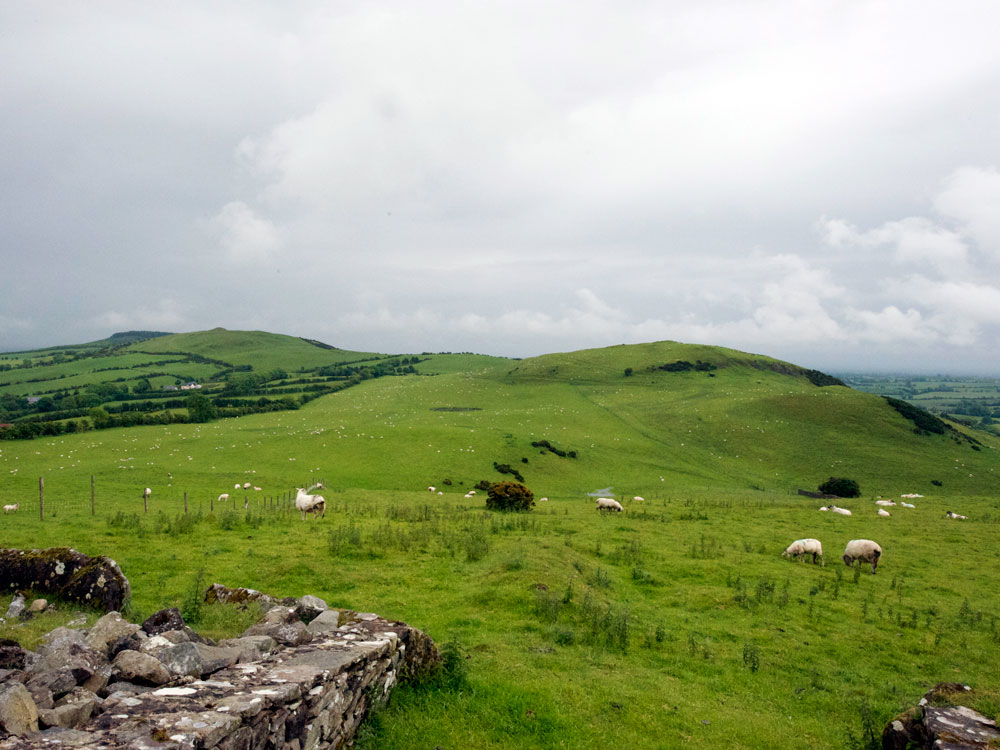 Cairn L is one of the more unusual chambered cairns in Ireland, having a complex plan and internal standing stone within the chamber. The monument has only been excavated by Eugene Conwell. When Conwell arrived in 1865 the roof had collapsed and the chamber was full of rubble. He estimated that the capstone probably stood 5 or 6 meters above the floor of the chamber.