Cairn S
This somewhat unusual monument is close to Cairn T. The passageway is 5 meters long and is oriented towards the North-west; American researcher Martin Brennan suggested an alignment to the Bealtine and Lughasadh sunsets in May and August. The chamber is Y-shaped, the only such example currently known in Ireland.
The monument is encircled by a kerb composed of both rounded and flat glacial boulders, 17 meters in diameter. Six of the orthostats are ornamented, and several of the engravings have very obvious solar symbolism.
Eugene Conwell excavated the monument in the 1860's:
S is only five yards to the west of T, and fifty-one yards from R. Thirty-three large stones standing on ends form a circle, eighteen and a half yards in diameter, round the present remains. The apex of this carn is completely gone, leaving exposed the tops of the upright stones forming the chambers, the arrangement of which here differs from the others in having the passage or entrance from the west — exact bearing W 10°N. The entire length of the passage and chambers taken together is fifteen feet.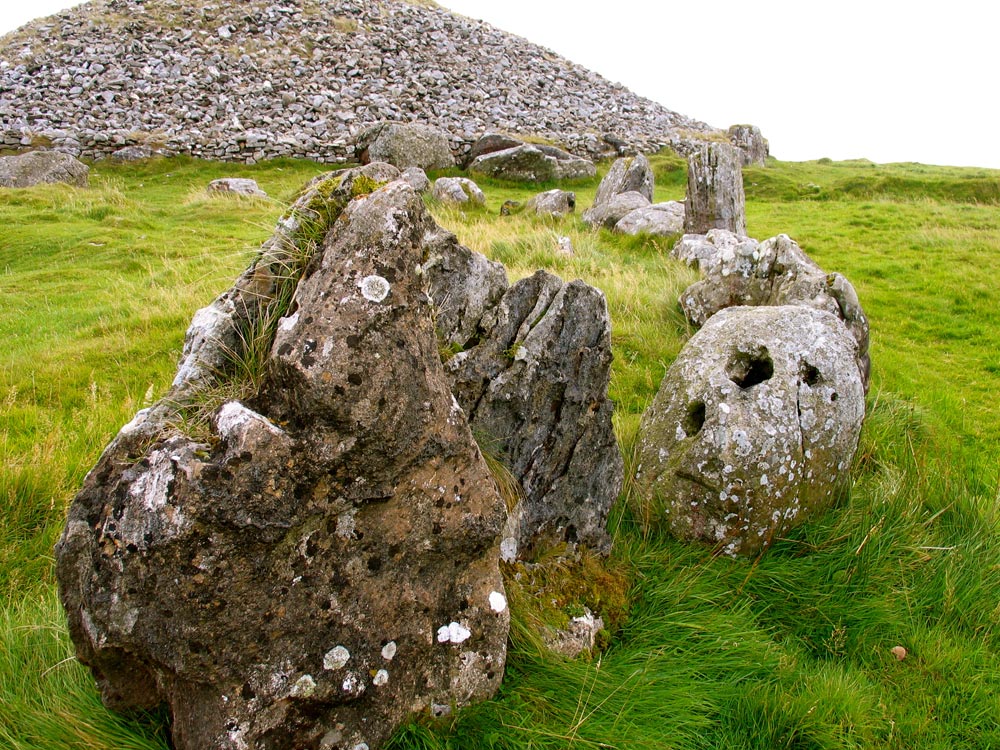 The passage itself, which varies in breadth from two feet three inches to two feet seven inches, is divided by transverse upright stones into two compartments, each about two feet square. Immediately outside the entrance of the passage was found a perfect specimen of a leaf-shaped arrow-head, in white flint, an inch and a half long, and nearly three-quarters of an inch broad. Dr. Thurnam, who has seen it, pronounces it to be somewhat larger than those of the same unbarbed type found by him in the Wiltshire barrows.

The two small compartments in to which the passage itself is divided were filled up to the height of eighteen inches with charred bones, broken into small fragments. On the top of these, in the first chamber, a piece of bent bone, tooled and rounded at one end, and nine inches in length, was found to be silicitied.

In the second chamber, and also on the top of the charred bones which filled the compartment, a roughly finished bone dagger was found, seven inches long and nearly an inch broad at the extremity of the handle, its widest part.

Nearly covering the entire floor in each compartment rested a thin flag, vinderneath whicli were found splinters of burned bones, intermixed with small stones and pieces of charcoal.


Six of the chamber stones here are inscribed.