Cairn T at Loughcrew
From the carpark a short steep 10 minute walk (marked with poles) brings you to the summit, which appears suddenly. Cairn U appears first then the large imposing mound of Cairn T, which caps the top of the hill.
As you approach the cairn, the Hag's Chair, a large decorated kerbstone, calls out to be sat upon. From this seat on the north side of the cairn, which is the highest peak at Loughcrew, there is a magnificant view which is said to extend over 18 counties - one of the best views in Ireland.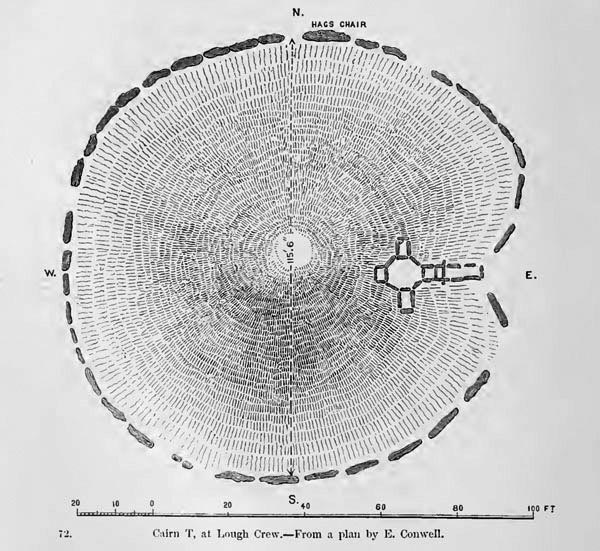 To the northwest the south end of the Braulieve Mountains in County Leitrim is visible. Sliabh Gullion in County Armagh stands out 60 km due north.
The mound or cairn of Cairn T is more or less complete, missing only the capstone of its fine beehive corbelled chamber. A small grill covers the hole where the keystone should be, admitting light and rain. Also missing is the thick mantle of white quartz which was much commented upon by early visitors, so that it was known as Carn Ban, the White Cairn.
A circle of 38 large kerbstones bounds the base of the mound of stones. One stone was sometimes split in half to make two kerbs The kerbstones are a mixed bunch, of all shapes and sizes, and as usual getting larger towaerd the entrance, the largest stones being placed on each side of the door. The Hags Chair stands out as the only kerbstone with megalithic art remaining at Loughcrew, though there were surely many more.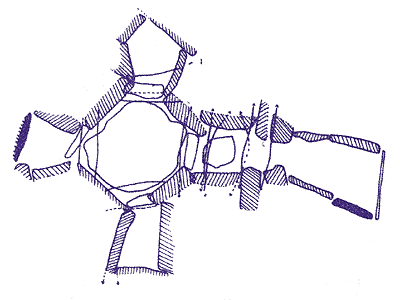 The Hag's Chair is a huge horned kerbstone on the north side of the cairn, where, according to tradition, the Cailleach Garavogue used to sit and watch the stars. The stone is placed facing due north, towards the stellar pole, and is positioned due north of the chamber.