Lord Palmerston and China
THE UNDERSIGNED, Her Britannick Majesty's Principal Secretary for Foreign Affairs, has the honour to inform the Minister of The Emperor of China, that Her Majesty The Queen of Great Britain has sent a Naval and Military Force to the Coast of China, to demand from The Emperor satisfaction and redress for injuries inflicted by Chinese Authorities upon British subjects resident in China, and for insults offered by the same Authorities to the British Crown.
For more than a hundred years, commercial intercourse has existed between China and Great Britain; and during that long period of time, British Subjects have been allowed by the Chinese Government to reside within the territory of China for the purpose of carrying on trade therein. Hence it has happened that British Subjects, trusting in the good faith of the Chinese Government, have fixed themselves in Canton as Merchants, and have brought into that city from time to time property to a large amount; while other British Subjects who wished to trade with China, and who could not for various reasons go thither themselves, have sent commodities to Canton, placing those commodities in the care of some of their fellow Countrymen resident in China, with directions that such commodities should be sold in China, and that the produce of the sale thereof should be sent to the Owners in the British Dominions.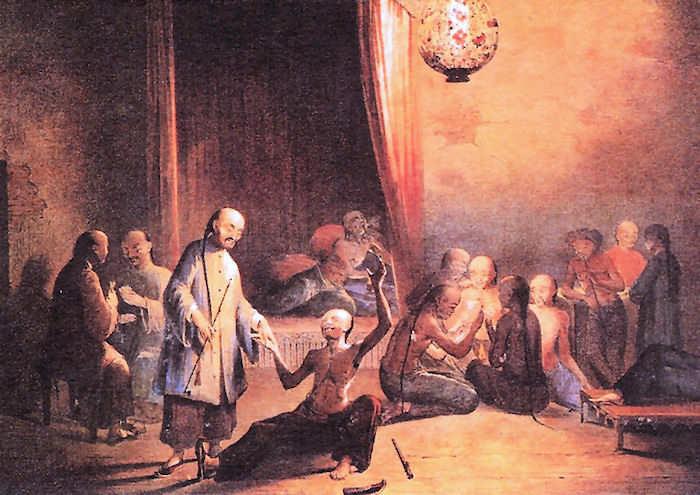 Thus there has always been within the territory of The Emperor of China a certain number of British Subjects, and a large amount of British Property; and though no Treaty has existed between the Sovereign of England and the Emperor of China, yet British Subjects have continued to resort to China for purposes of trade, placing full confidence in the justice and good faith of The Emperor.
Moreover, of late years the Sovereign of Great Britain has stationed at Canton an officer of the British Crown, no wise connected with trade, and specially forbidden to trade, but ordered to place himself in direct communication with the local Authorities at Canton in order to afford protection to British Subjects, and to be the organ of communication between the British and the Chinese Governments.
But the British Government has learnt with much regret, and with extreme surprise, that during the last year certain officers, acting under the Authority of The Emperor of China, have committed violent outrages against the British Residents at Canton, who were living peaceably in that City, trusting to the good faith of the Chinese Government; and that those same Chinese officers, forgetting the respect which was due to the British Superintendent in his Character of Agent of the British Crown, have treated that Superintendent also with violence and indignity.
It seems that the cause assigned for these proceedings was the contraband trade in Opium, carried on by some British Subjects.
It appears that the Laws of the Chinese Empire forbid the importation of Opium into China, and declare that all opium which may be brought into the Country is liable to confiscation.
The Queen of England desires that Her Subjects who may go into Foreign Countries should obey the Laws of those Countries; and Her Majesty does not wish to protect them from the just consequences of any offences which they may commit in foreign parts. But, on the other hand, Her Majesty cannot permit that Her Subjects residing abroad should be treated with violence, and be exposed to insult and injustice; and when wrong is done to them, Her Majesty will see that they obtain redress.
Now if a Government makes a Law which applies both to its own Subjects and to Foreigners, such Government ought to enforce that Law impartially or not at all. If it enforces that Law on Foreigners, it is bound to enforce it also upon its own Subjects; and it has no right to permit its own Subjects to violate the Law with impunity, and then to punish Foreigners for doing the very same thing.
Neither is it just that such a Law should for a great length of time be allowed to sleep as a dead letter, and that both Natives and Foreigners should be taught to consider it as of no effect, and that then suddenly, and without sufficient warning, it should be put in force with the utmost rigour and severity.