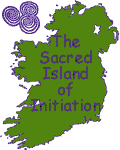 Cairns O and P on Doonaveeragh
Cairn O is situated on Doonaveeragh Mountain over looking the village site on the plateau below. Getting up to O is a bit of a struggle at it is perched on the top of a very overgrown escarpment. There is an ancient overgrown track to the cairn/easy way to get up there, but I haven't managed to find it yet. Macalisters 1911 excavation can be seen here in the disturbed ring around the edge of the cairn where they pitched out stones all around in their search for the entrance. The cairn is about 20 meters in diameter and contains a tiny pentagonal chamber, high up in the cairn in the southeast side. There is barely room for one person in this tiny chamber which resembles the structure of some of the tiny Carrowmore chambers.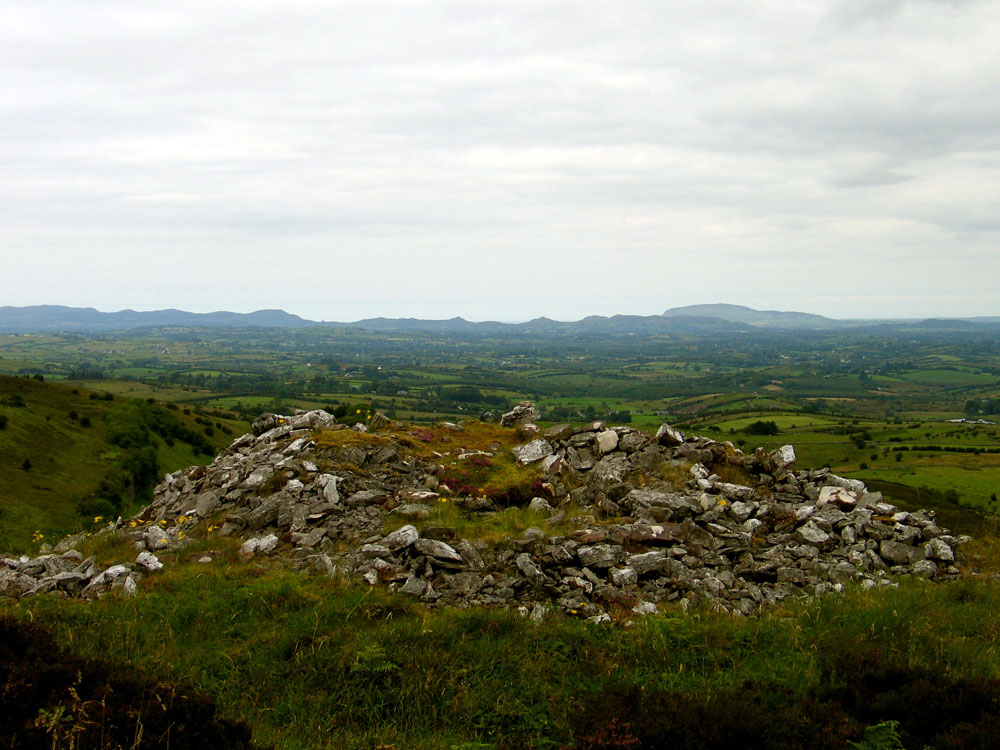 View to the northwest from Cairn O.
Perhaps it was not intended for people, only burials, as has been suggested of the small chambers at Carrowmore. I feel myself that it may be a place for young initiates or perhaps even people visiting Carrowkeel for a retreat, might spend time in the chamber learning to meditate. The orientation of this chamber is directed away from the rest of the monuments at Carrowkeel, towards Sheemor and Loughcrew 75 km away. It may be aligned towards to the extreme lunar standstill rising or towards another monument, linking Carrowkeel with the sites on the east coast of Ireland.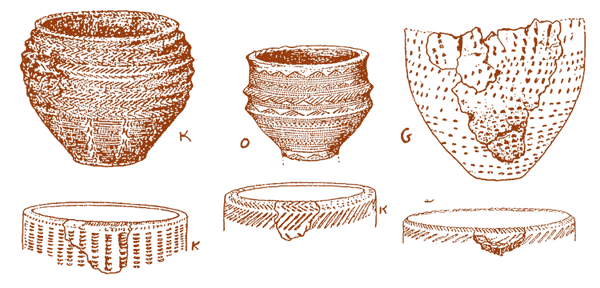 The only find from the chamber in 1911 was a fine Bronze age food vessel, above center, which shows continuity the monuments being used as sacred sites beyond the neolithic.
Cairn P is a smallish round cairn a few hunderd meters beyond Cairn O, situated on the highest point of Doonaveeragh Mountain at 283 meters. Standing on the summit of this cairn and looking out across Cairn O and the village, you can see that the whole mountain points to Knocknarea 25 km away. More than one visitor has been reminded of a gigantic ship upon viewing Doonaveeragh Mountain from the cliffs at the edge of Carrowkeel. Macalister says he spent a few hours digging Cairn P, but gave up concluding the mound was blind or cenotaph. Today it doesn't look messed up enough for them to have dug too deeply. Macalister noted that the cairn, which is about 9 meters in diameter, was well constructed on a foundation of four massive boulders.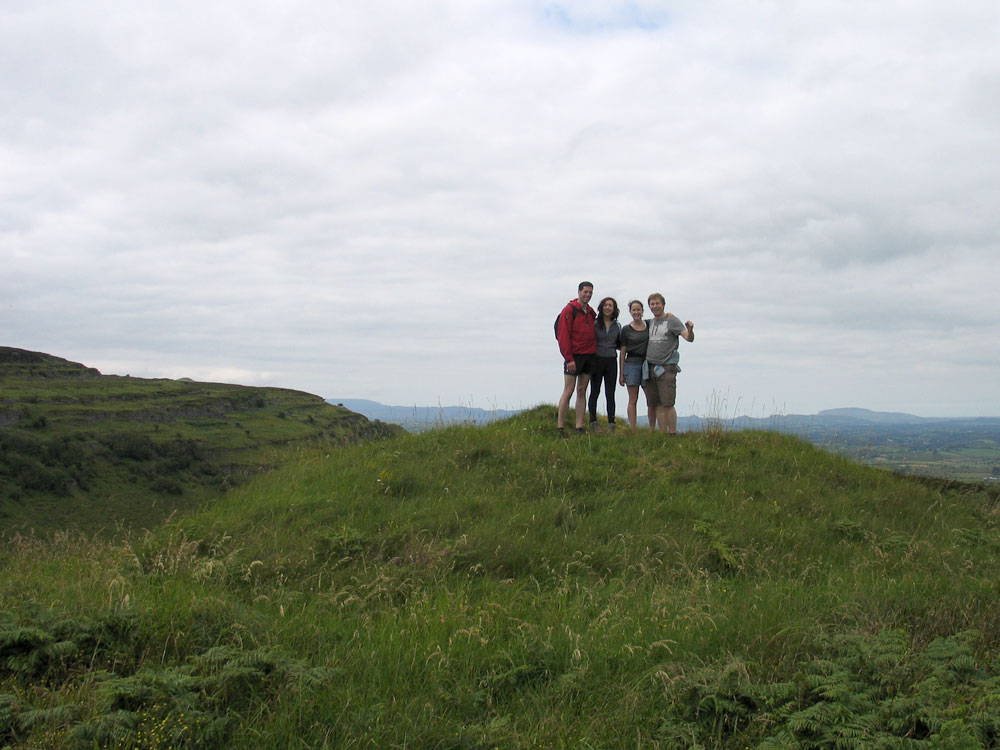 View to the northwest from Cairn P. Carrowkeel, left and Knocknarea, right.
There is an interesting view from these two cairns. From Cairn O, Cairns G and H are visible, as is the erratic boulder, but Cairn K cannot be seen. From Cairn P, Cairns G and K are visible, but now H cannot be seen. These two sets of angles offer extra positions to watch midsummer sunsets from.
Cairn P appears to be on a major line (ley line?) which extends from Kesh Cairn to Sheemore in Co. Leitrim, and possibly across the country to Loughcrew. I have always fancied that Cairn P was used as a lookout by Red Hugh O'Donnell's forces during the Nine Years War (1593 - 1601). His armies used to camp on Doonaveeragh, which overlooks the Red Earls Road, the medieval highway by the mountains. A signal may well have been sent from Cairn P at the commencement of the Battle of the Curlews