Milwaukee - The Cave of the Sun
August 1998. America. Hot! Myself and my good friend Padraig Conway have been invited to participate in the Milwaukee Irish Festival, the biggest, we are told, in America. I am to give a series of slide shows and talks on the Irish stone age, which includes mythology and astronomy. However, though we are going to be in the Cultural tent, we have to make our own space for showing slides......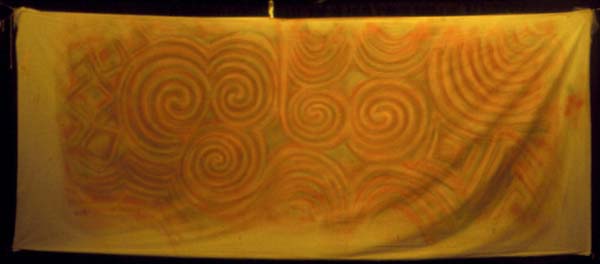 We arrived 10 days before the festival began, which gave us a bit of time. As usual, when we get together, things get a bit mad. We decided to build a cairn - The Cave of the Sun. It was something we had always wanted to do......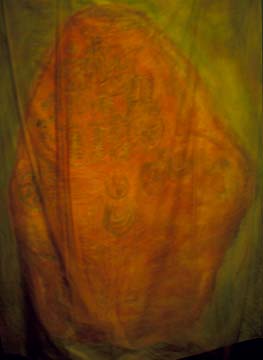 A painting of the keystone of Cairn T, Loughcrew by Padraig. This stone is lit by a beam of light from the rising sun twice a year, and by the full moon on certain dates. This image is blurry as Padraig had some thin veils of gauze over it. We decided to show an exhibition of life size images of Irish engraved stones. This and the Entrance Stone at Newgrange (top) were two pictures Padraig had been working on prior to the festival.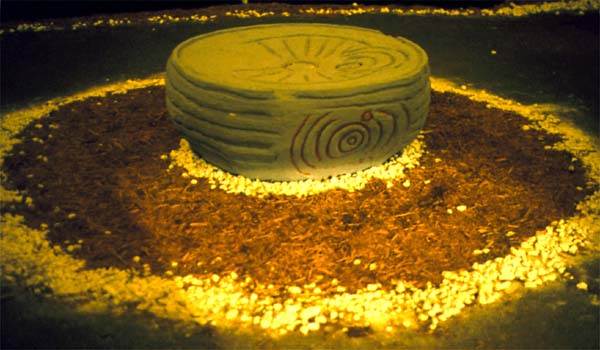 A knocked up replica of the great stone basin of Knowth East.
We placed this in the centre of our 'chamber'.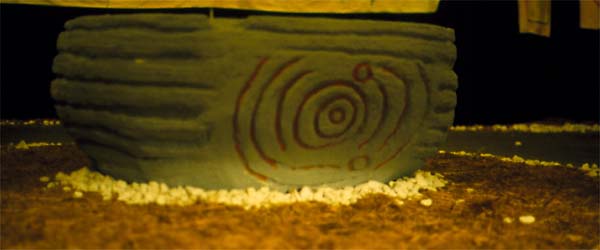 We decided to construct our sacred mound from styrafoam.......
We ended up choosing stones mainly from Newgrange, Knowth and Cairn T, with a scatter of others from Fourknocks, Tara and Sess Kilgreen. First we built a front facade and entrance, with a passageway, which we made much larger than a real mound passage. A lot of Americans are big people. The chamber was in the tent, which we hung with black drapes. We used the drapes to make three alcoves, and we lined the roof with black plastic to make the interior dark........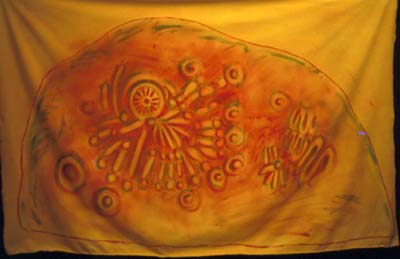 A stone from Loughcrew. As we created and assembled our mound, we also began knocking up paintings of Irish engraved stones. These are the oldest documents in Ireland. We based our paintings on rubbings, so they were pretty much life-size. This stone is from a destroyed cairn on Patrickstown Hill at Loughcrew. It is the only decorated stone remaining, and is considered to be a calendar stone. It was probably the backstone of a chamber which faced the summer solstice sunrise.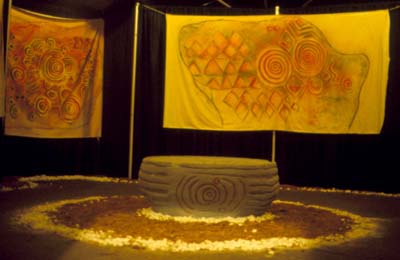 A shot of the chamber interior. There is a recess/alcove on the left. The basin was my creation, when I discovered we had an extra day near the end of the project. People who came in walked around the chamber clockwise. The basin was in the centre. The two images are a stone from Cairn L, Loughcrew, and K67, the pole star stone at Newgrange.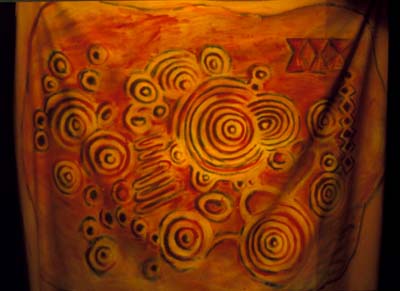 On with the paintings. I think we hung and painted 10 of them within our chamber. How we got time to do them, I don't know. Sketches. People working for the festival thought we were a bit mad - we did ourselves until it came together. Thie stone above is from Cairn L at Loughcrew. It is illuminated by the light of the rising sun at Samhain and Imbolc, the festivals at the beginning and end of winter. We used this symbol in out earlier large scale project, Solas Atlantis.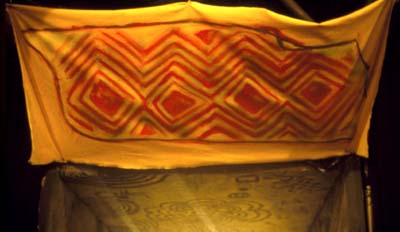 This design is reproduced from Fourknocks, a site near Naul, not far north of Dublin Airport. You can see a bit of the passage roof as well.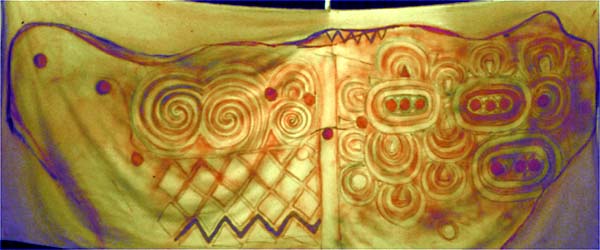 A slightly lobsided painting of Kerbstone 52, the summer solstice sunset stone at Newgrange.
This is a big stone!.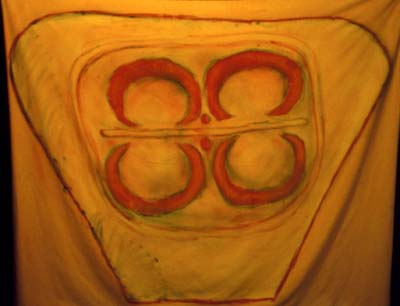 This one is a kerbstone from Knowth, with interesting lunar symbolism. The horizontal line may represent a megalithic unit of measurement, according to Martin Brennan.
I suppose I should show you what it looked like from the outside (top). Not bad for a weeks work. A few poeple who hadn't been able to get into Newgrange cried! I was impressed. The front facade is styrofoam, hardwalled and painted grey. I had planned to paint in more of the designs - but we ran out of time. The paint was still wet on several surfaces when the festival opened.