Kerbstone 67 at Newgrange.
As you walk around the mound from the entrance, going anti-clockwise, the next fully engraved stone you meet is Kerbstone 67. The slab is located at the northern boundry of the mound when measured from the chamber.
Due to published drawings which give an incorrect azimuth of 150°, instead of 135° for the orientation of the passage, many researchers have been thrown off course when trying to work out alignments at Newgrange.
K67 has been called a summer solstice sunrise stone by Michael Poynder in Pi in the Sky, where he goes into great detail in trying to make sense of the designs. When the ground plan of Newgrange is correctly drawn, the stone is positioned due north of the chamber.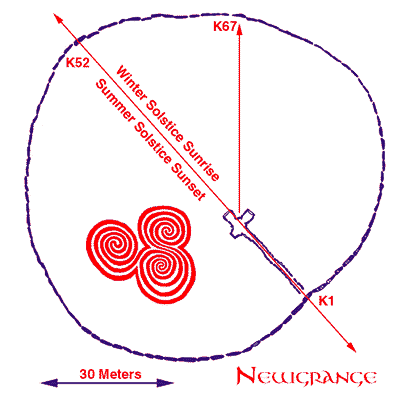 It makes sense that when designing and constructing a huge building such as Newgrange, which has proven astronomical alignments, a lot of surveying and measurement took place. At some stage, before the mound was constructed, there was a ring of freestanding kerbstones. This helps to make sense of the hidden or occulted art, which was found on the back of several of the kerbstones - they are probably builders markers. Kerbstone 67 is due north of the chamber, and the engraved symbols are most likely expressing this.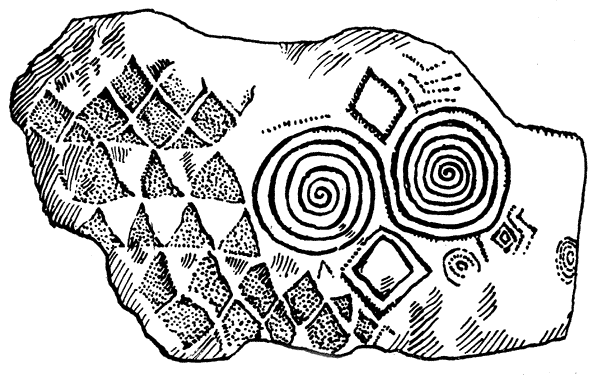 There are several examples of north/south markers at other megalithic sites. The Hags Chair is located north of the chamber of Cairn T, as a large boulder at Shee Lugh on Moytura. Various standing stones are northern markers at Carrowkeel, while Cairn F is directly concerned with this orientation. Queen Maeve's Cairn has both north and south marker stones.