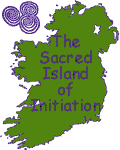 Art and symbolism of Newgrange
Newgrange has some of the finest megalithic art in Europe. Three of the kerbstones are fully decorated - the Entrance stone, Kerbstone 52 which is positioned at the exact opposite side of the cairn to the entrance, and K 67 which lies to the north of the chamber. In addition there are many lesser carvings on other kerbstones. During the excavation it was discovered that several stones were decorated on their inner hidden sides, which prompted much speculation about the nature and meaning of the art.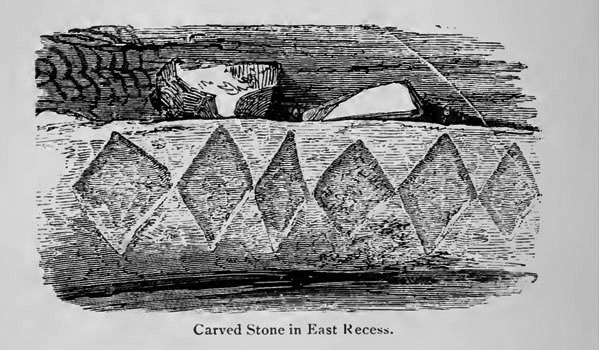 The lintel of the Roofbox is engraved with a series of eight lozanges which may reflect the division of the year into eight parts as can be seen in the equinox engravings within Cairn T at Loughcrew. The passage and chamber stones are also richly engraved with spiral, lozange and zig-zag motifs. The signiture of the Newgrange builders is the famous triple spiral which appears in a large version on the entrance stone and a finer version in the end recess of the chamber.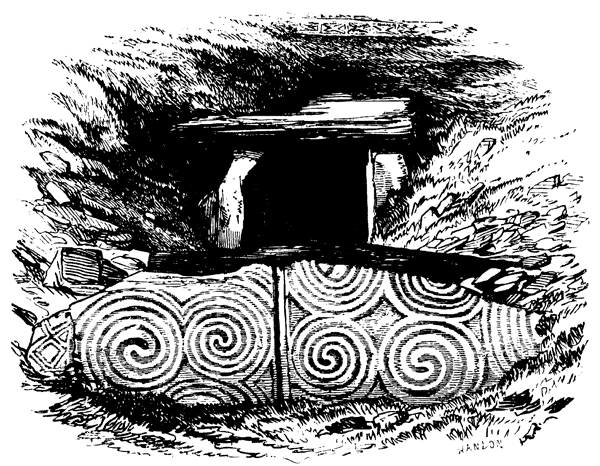 Engraving of the Entrance Stone from William Wilde.
The artwork was catalogued by Claire O'Kelly, wife of Michael O'Kelly, the main excavator. Claire took rubbings of the stones, most of which are reproduced in Michael O'Kelly's Newgrange book.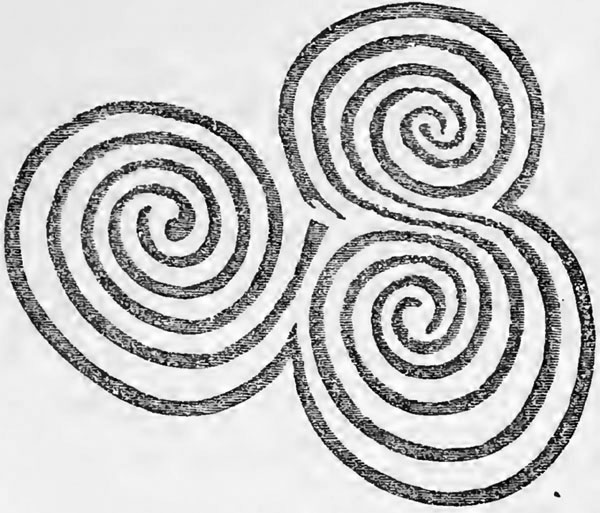 The triple spiral or OM within the end recess of Newgrange. Click here to download an actual size image that can be printed on A4.
Another researcher who made an intensive study of the megalithic art of the Boyne Valley and Loughcrew was Martin Brennan. His work was published in two books, The Boyne Valley Vision and The Stars and the Stones. Brennan was trained as an artist, and he made several groundbreaking discoveries about the relationship between the art and the astronomical alignments of the mounds. Sadly, his work was much maligned by the acedemics of the times - there seems to have been plenty of animosity. However, now almost 30 years since his books were published, many of his theories have become accepted, though mostly uncredited.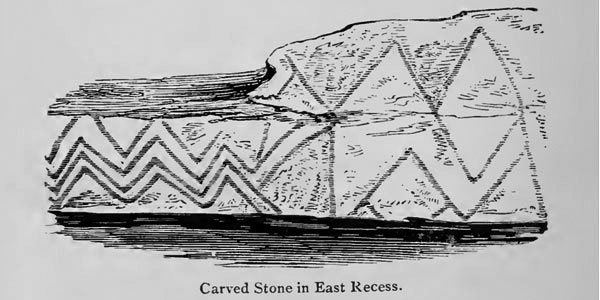 RTE's Richard Dowling speaks to Muiris O Suilleabhain, Professor of Archeology at UCD about Neolithic Art at Newgrange ahead of this year's Winter Solstice on December 21st 2011.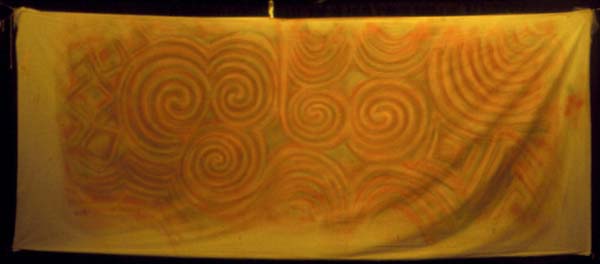 Painting of K1 by Padraig Conway, Milwaukee Irishfestival, 1998.