The walls that brought the Céide Fields to light were preserved by the growth of bog across the prehistoric landscape. As the climate changed, about 3,500 years ago the land became wetter and harder to farm, until the bog took hold and began to grow. Over the intervening span of time, plant and moss fibers decomposing built up the layers of peat, smothering the stone walls. The fields were rediscovered by modern farmers cutting turf, the traditional fuel in the west of Ireland. For years they had been coming across tumbled stone walls and sometimes quernstones. Archeologists in the area developed a technique of probing the bogs with sharp sticks, which enabeled them to map the wall systems without excavating them.
A large visitor centre was built at Ceide in 1994, which provides a good base from which to visit the windswept landscape. It is perched on the cliffs, located outside the north edge of a field. The centre is built in the form of a pyramid, with bog growing up the sides, and a glass viewing top, so is easy enough to find.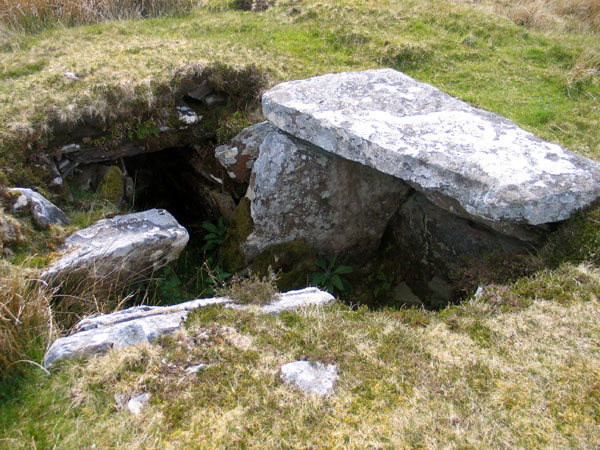 The chamber of Behy court cairn. This fine monument was excavated in the 1960's, but has since largely been reclaimed by the bog.
There are many, many monuments in the area, mostly court cairns. In Behy, just 300 meters up the bog behind the visitor centre, is a partally covered court cairn, the chamber of which you can enter. Watch out for the viscious Céide midges, though! This is a transceptal (cross-shaped) chamber, one of only 8 found so far in Irish court cairns.
Another famous monument - at least to archaeologists - is the Ballyglass court cairn. When this monument was excavated, the site of a rectangular house was discovered under the monument. A reconstruction of this dwelling can be viewed in the visitor centre.