In recent years archaeological research has thrown new light on Rathcruchan. Surveys have turned up evidence of structures which are no longer visible on the surface. Several large enclosures, including one which encircles the great mound, riddle the area. This is certainly a complex complex!
A video of the Cave of the Cats.
These features may date from the Bronze age period after 2500 BC when the Irish made the transition from stone to metal. As yet, no excavations have taken place, all surveying being done with electronic scanning devices. There is a detailed presentation on the recent surveys at the visitor centre in Tulsk.
Today the monuments at Rathcroghan can be difficult to visit due to the presence of plenty of (in some cased electrified) barbed wire, and angry young bulls. However, there are several large mounds, such as Rathcroghaun itself and Rathmor, which are easy to access.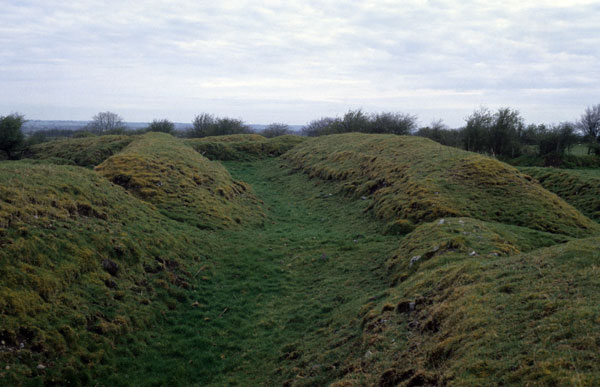 Earthworks at Rathra.
Rathra, a massive multi-valliate enclosure a few km to the west of Rathcroghan is well worth a visit. The site is easy to access, over a stile and across a field after parking. The enclosure is truely massive, with three huge banks and four deep ditches encircling the central area. There are two mounds within the enclosure, one of which appears to be a barrow, the other (below) a ceremonial earthen platform, probably for a wooden structure of some kind. Sadly, the earthwork is on two different farms, and a quarter of the site has a strong barbed wire fence atop modern field banks. There is a souterrain (underground passage) entrance in the ground between the two mounds.
The earthwork is about 400 m in diameter, and located on the west side of the hill of Mweelughadooey, commanding wide views to the west of Connaught. The great quartzite pyramid of Crogh Patrick, Connaught's sacred mountain, stands out on the western horizon.