Carnfree
The Carnfree monuments are located a few kilometers to the south of Rathcroghan. This ridge has a number of barrows and other monuments spread across the summit, the most famous being Carnfree itself, Cairn Fraoch, a probable barrow or even earlier monument that was used as the inauguration mound of the O'Connors of Connaught in medieval times.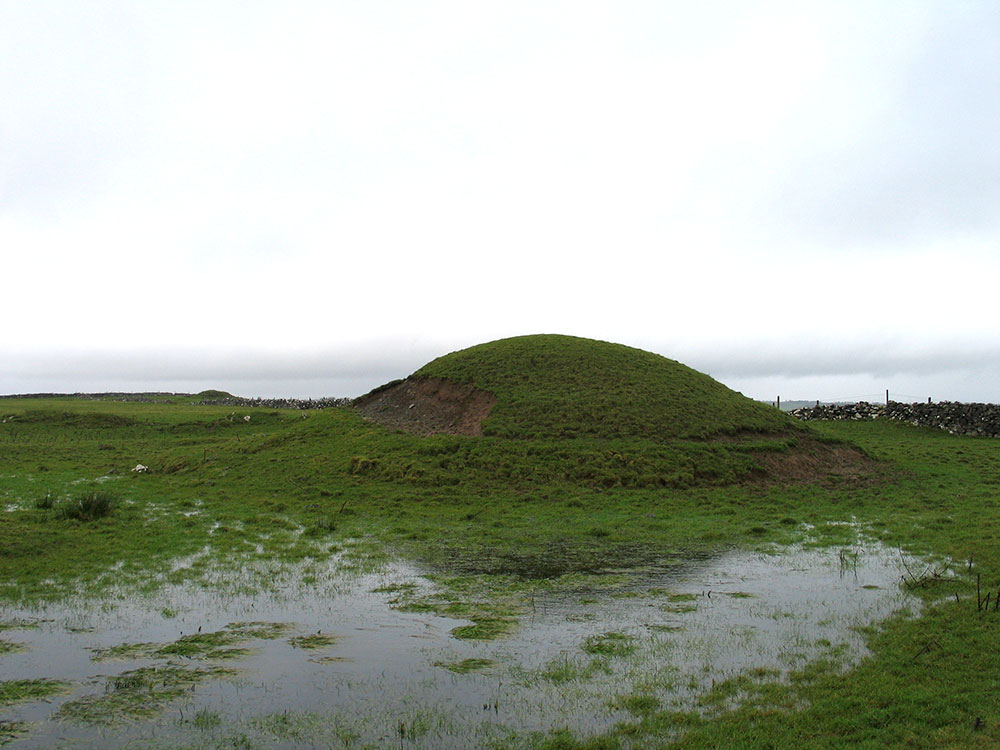 The large barrow on the ridge of Carnfree.
The oldest monuments in the area are the three megalithic structures, now quite ruined, at Sheegeeragh about 1 kilometer east of the ridge of Carnfree. These three megaliths are thought to have been passage graves.
Earthworks at Rathra.
Rathra, a massive multi-valliate enclosure a few km to the west of Rathcroghan is well worth a visit. The site is easy to access, over a stile and across a field after parking. The enclosure is truely massive, with three huge banks and four deep ditches encircling the central area. There are two mounds within the enclosure, one of which appears to be a barrow, the other (below) a ceremonial earthen platform, probably for a wooden structure of some kind. Sadly, the earthwork is on two different farms, and a quarter of the site has a strong barbed wire fence atop modern field banks. There is a souterrain (underground passage) entrance in the ground between the two mounds.
The earthwork is about 400 m in diameter, and located on the west side of the hill of Mweelughadooey, commanding wide views to the west of Connaught. The great quartzite pyramid of Crogh Patrick, Connaught's sacred mountain, stands out on the western horizon.