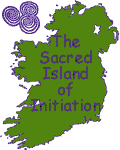 Site 57
No. 57. Situated about 8 paces to the E. of 56 (dolmen-circle). "This circle is perfect, and consists of thirty-two (thirty-three according to W. M.) stones of large size. The diameter is 47 feet. The cromleac is destroyed." - Petrie.
" The result of searches in various spots within the circle was but a few uncalcined bones, also a small fragment of worked flint, and a flint flake, or spear head." - Wood Martin.
The circle is slightly oval, measuring 60 feet from E. to W., and 52 from N. to S. (out to out).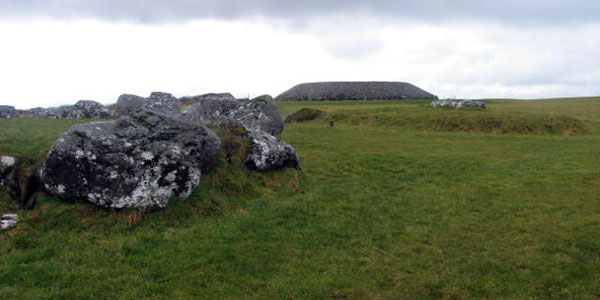 Carrowmore 57, 56 and the cairn of Listoghil.

Site 58
No. 58. Situated 30 paces to the N.E. 57 (dolmen-circle). "This circle is entirely destroyed, but the supporting-stones of the cromleac, seven in number, remain." - Petrie.
This monument "consists of an oblong cist, or enclosure, which was probably at one time covered. If it were ever surrounded by a circle, it has been long since destroyed. This site was most carefully searched, yet no fragments of bone could the discovered, neither were there any signs of charcoal. A flint flake, or knife, was here unearthed, but its point was missing." - Wood Martin.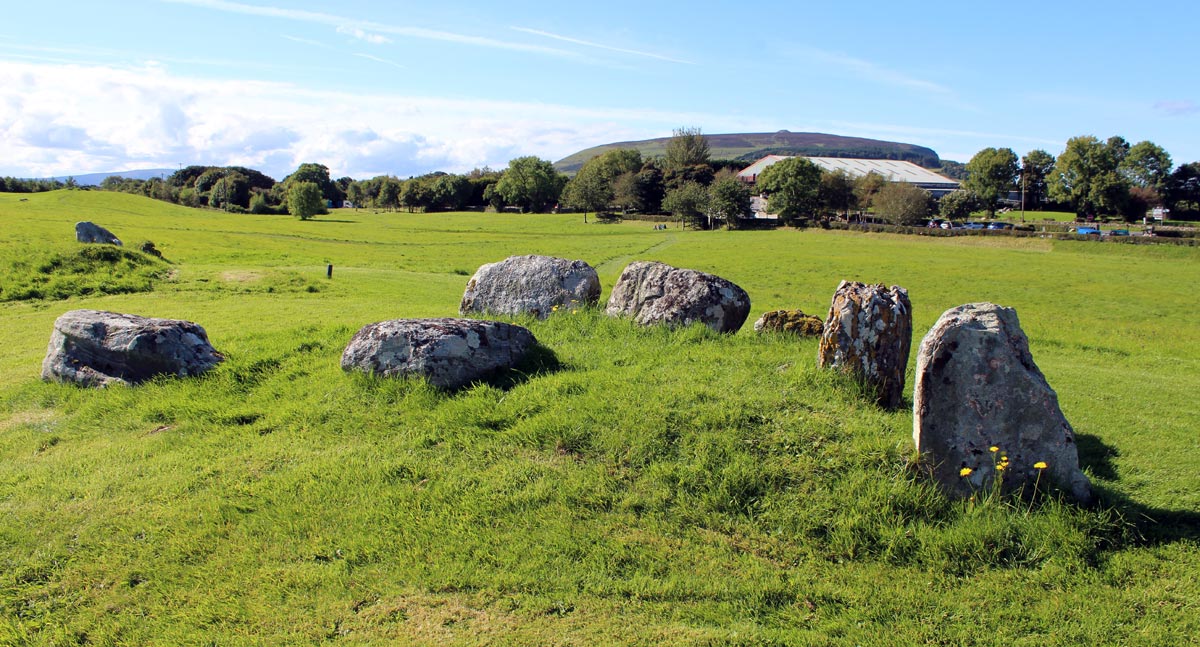 The scant remains of Site 58.
From the plan, the monument seems to be 20 feet long, from out to out, and the longer axis of the chamber N.W. and S.E. Four or five stones at the S.E. end look as if they had formed portion of such an oval enclosure as surrounds monuments such as the Leaba-na-Callighe in Cork, to which class, rather than to that of the dolmen-circle, this structure possibly belongs.
Site 59
No. 59. Situated a few paces to the E. of the preceding (dolmen-circle). "In this instance the circle is also absent. The supporting-stones of the cromleac remain. They consist of nine stones, and are arranged in a circle [a feature which, however, does not appear in Col. Wood-Martin's plan]. This is the last of the series of these monuments of which I could find any distinct traces." - Petrie.
This monument seems to have been originally a rectangular cist, of which four side stones alone remain in situ. Its longer axis is about N.N.E. and S.S.W. Remains of human bones were found only under and about one of the fallen side slabs (second from bottom of plan, E. side of cist). The position of these was enough to show that the usual plan of cremation or torrefaction of the dead (that, at least, which was practised in the case of 52) had also obtained here."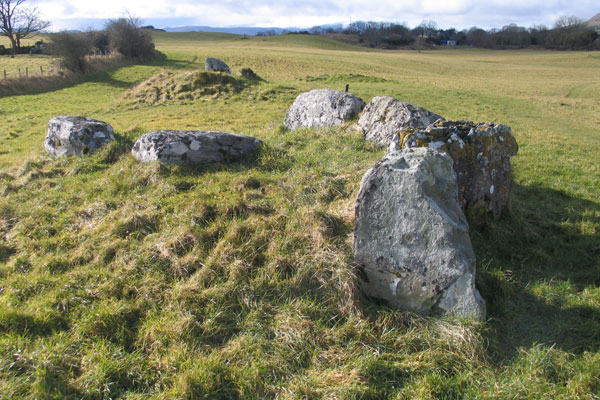 Site 58 may be the remains of a wedge monument.
Two small fragments of worked bone were discovered, which had been evidently the head or termination of some object or objects. One of them resembled the semicircular piece of bone found in No. 1. There was also a fragment of a very white and highly calcined object with a sharply incised hole, not, however, penetrating quite through. It might be semi-opal, or hydrated silica.
The other remains found in this cist consisted of: -
(a) 2.5 lbs. weight of greyish-white bones, seemingly calcined: amongst them were fragments of those of birds and animals, some showing a dark-blue coiour (vivinnite) on the inside.
(b) Small finger-tops, probably those of a young person or child, a tooth of a child, and also one of an adult.
(c) Fragment of calcined cranium.
(d) Some bones of a dog, a fragment of a lower jaw, and other animal remains of a peculiar white colour.
(e) A few uncalcined bones.
(f) Four pieces of fractured white quartz, the two largest weighing 2 oz. and 1.5 oz. respectively.
(g) Two specimens of Cyathophyllum, a fossil coral from the Sligo limestone. - Wood Martin.
According to the plan, this monument probably measured about 20 feet in length.
Site 60
No. 60. To the S. of one of the roads leading from Sligo to Cloverhill, and E. of that from Sligo to Seafield, N.E. of the oval chain of circles. "Known in the district by the name of Caltragh." Petrie here explains this term, as it was locally explained, no doubt, "the church or graveyard, from the fact that the whole of it is filled with human bones. No interment has ever been made in it in the memory of man, nor is there any tradition of a church ever having been there."
It is evidently a work of pagan times, and the conclusion may, perhaps, be drawn with safety, says Petrie, that, "while the other monuments were the tombs of chiefs or princes, this was the general cemetery of the soldiers or common people."
Col. Wood-Martin, in like manner, regards it as the general burying-ground for the ordinary population of the district, "as distinguished from the sepulchres within the circles, which would appear to be those of a family or of a chief."
"It is a great, circular enclosure (92 paces in diameter from N. to S., and about the same from E. to W.), originally surrounded, as in all the preceding examples, by a circle of large stones. Most of these stones have been removed to clear the land, and those which remain are nearly covered with earth." - Petrie.
"The interior forms a gently rising hillock...... Owing to the quantity of human remains turned up when the grassy surface was broken for tillage, it is stated to have been soon again laid down by the tenant, who imagined the crop of potatoes would be too oily in taste! It is an enlarged and developed reproduction of No. 8...... Some years ago part of the field outside the periphery of the caltragh was tilled, and is said to have been full of human remains. In one small spot in the slope of the hill, from which the sod had been stripped by cattle, fragments of calcined and uncalcined bones, periwinkle shells, a fragment of fractured white quartz, and animal teeth, both calcined and uncalcined, were picked up." - Wood Martin.