Newgrange Site Z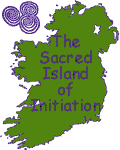 The Boyne Valley complex has about 40 neolithic sites, all clustered around the three great mounds of Newgrange, Knowth and Dowth. On the ridge along with Newgrange are the remains of three more neolithic chambers, and it is suspected that there may have been a fourth. Also on the same ridge are two timber circles and the remains of a cursus.
Site Z is located right beside and just east the main mound of Newgrange and within the large circular enclosure of pits. Site Z was discovered during the excavations at Newgrange, and was itself excavated by Michael O'Kelly and his team in 1966. The site had been largely destroyed by ploughing: all this land belonged to Melifont Abbey and was intensively farmed in medieval times.
The monument is about 20 meters in diameter. The kerbstones had been removed, and their sockets were marked with concrete stumps, as were the missing passage and chamber stones. The passage is just under 9 meters long, and opens into what may have been a large cruciform chamber; a small (1 x 1 meter) recess was found on the right hand side. The site was too disturbed to be sure if a left recess ever existed. An inner arc of five small boulders was found on the west side of the chamber.
Two chalk marbles, a fragment of a bone pin and many pieces of flint were found in the passage during the excavation. Most interestingly, a stone chisel was found in the chamber, a very rare artifact. None were found at Knowth, where so much carving took place. Four beads, three more marbles and six bone pins were also found in the chamber.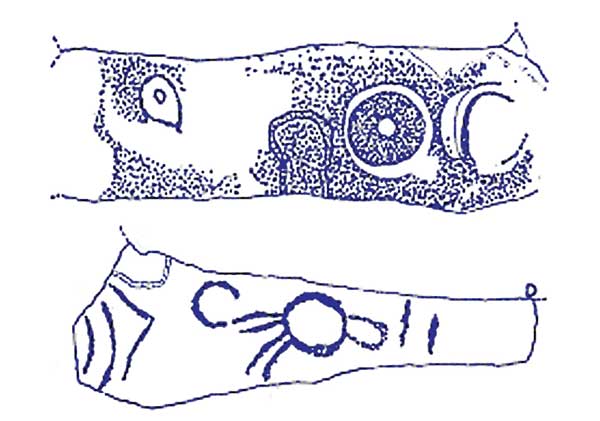 Carvings on the stone basin from Site Z, after Claire O'Kelly.
The most unusual find was a decorated stone basin, which looks just like a quern stone, and contained some cremated ashes. Some of the decorated stones from Site Z are in the National Museum in Dublin, where they have been reassembled in the passage grave exhibition.Two Roman coins were found at Site Z.
.