Dowth North
There are two passages and chambers concealed within the huge cairn of Dowth, both located within the southwest quadrant of the mound. The cave at Dowth was raided by the Vikings as noted in the Annals of Ulster, cave being the souterrain which was in use at the time.
The entrance to the north passage stood open up untill about 1870, when it appears in one of William Wakeman's illustrations. The north passage was excavated in the early part of this century when the entrance was re-modelled.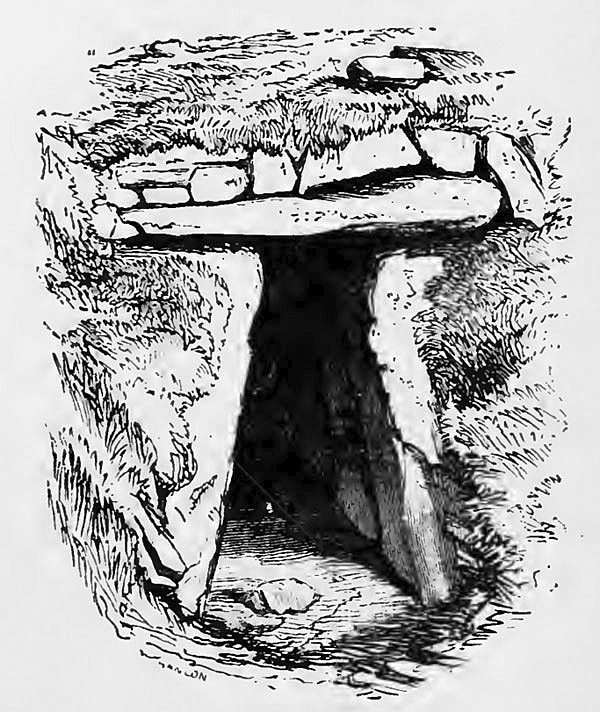 The actual opening lies buried underground while a concrete shaft intersects with the passage near it's entrance and has been used as the way in, using a ladder. There is also an entrance through the early Christian souterrain which joins up with the passage, and which is now mainly used to enter Dowth North.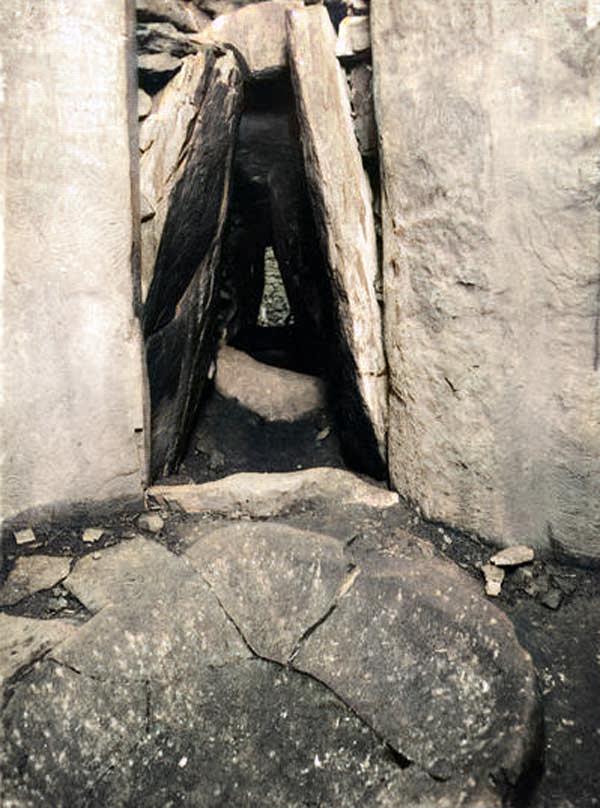 The passage is oriented to the sunsets at Samhain and Imbolc in early November and February, though the sun has not been able to enter for many years due to the damaged entrance and the chamber remains in darkness. Viewed from the passage, the sun would have set directly over Newgrange. The chamber of Dowth North is an unusual and complex affair. The passage extends for about 8 meters from the entrance and has 8 orthostats on the right side and 9 on the left. There are three sill stones in the passage.
The passage enters a chamber built of truely massive orthostats. There is a large oval basin in the middle of the chamber, which was smashed at some time in the past, and whos presence only adds to the unusual and quite spooky atmosphere of this chamber.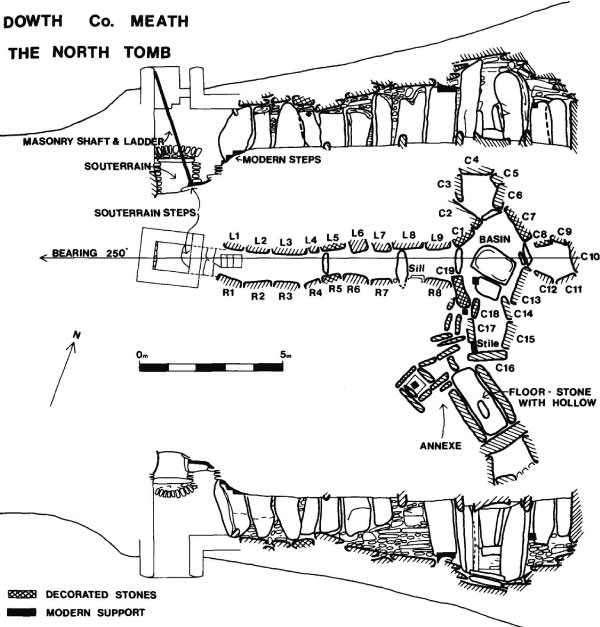 The chamber is cruciform in plan with three recesses. The right-hand recess extends into another short passage which turns right and then left. This annex is small and cramped; the visitor has to cross three sillstones to enter it. It is a very unusual feature and not found at any other site in the catalogue of chambered cairn design in Ireland. This so-called dog leg may be the remains of an earlier monument which was altered when the huge mound was built.