Loughcrew - Sliabh na Cailleach
Sliabh na Cailleach, or the Mountains of the Witch, as Loughcrew was known in the past, lies west of the town of Kells and south of Oldcastle in west Co. Meath, a strange and ancient piece of territory. Stretching in a chain over four tall peaks which spread out across four kilometers in an east-to-west chain, the area is littered with monuments from all eras. This has to be one of the most beautiful and powerful landscapes of sites in Ireland.
Loughcrew is a range of picturesque hills, three miles south-east of Oldcastle. The ridge of the range is about two miles in extent, and there are three chief heights: Slieve-na-Calliaghe, 904 feet; Patrickstown Hill, 885 feet; and Carnbawn, 842 feet: but the name of the first is generally applied to the whole range.
Here, within the radius of a rifle-shot, may be seen grouped together the most extraordinary collection of archaic monuments to be found in the kingdom. These for the most part consist of ruegalithic sepulchres surmounted by tumuli, and surrounded by stone circles. These number 'from 25 to 30 cairns, some of considerable size, being 120 to 180 feet in diameter; others are much smaller, and some are so nearly obliterated that their dimensions, can hardly be now ascertained.'
It is, we think, not too much to say that on the stones among these cairns is found the greatest collection of rude prehistoric scorings yet found in Ireland or, perhaps, in Europe.
The site is owned by the OPW and there is currently no access to the chamber of the central monument, Cairn T, due to maintainance works. If you should visit, please do not climb on the monuments.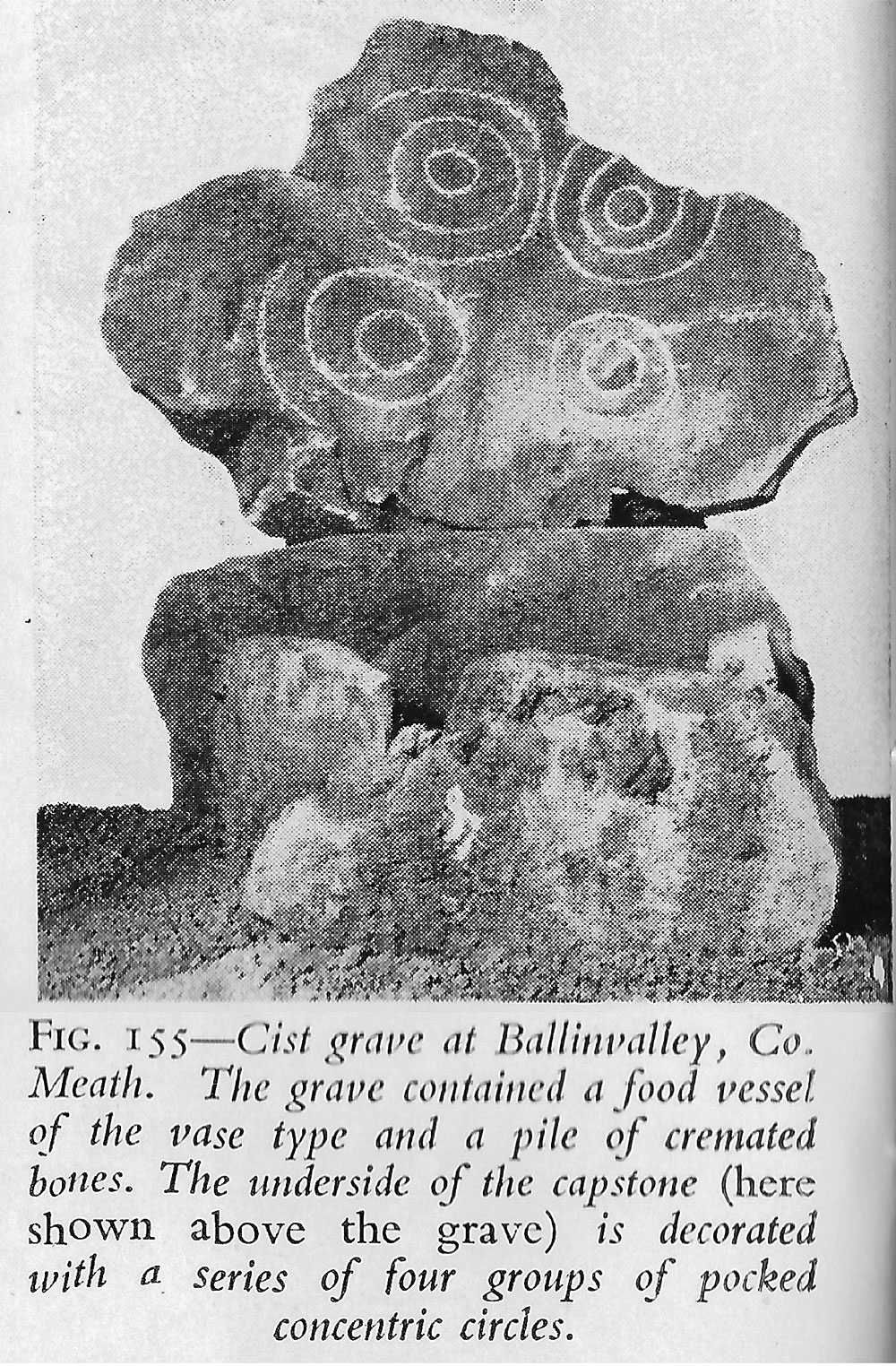 It is likely that this location was special to the mesolithic hunters-gatherers, the first people to colonise Ireland after the glacial period. The mesolithic people tended to be nomadic and did not build monuments, but held natural features such as boulder-fields, cliff-faces and rock outcrops as special places. The colonising neolithic farmers arriving around 3,500 BC build monuments with internal chambers using the abundant glacial material scattered across the hills. Though the monuments at Loughcrew have not been dated with modern techniques, they are the oldest unrestored Irish monuments along with those at Carrowkeel, 75 km away in County Sligo.

The neolithic farmers collected the rocks and assembled them into monuments. Folklore remembered a giant goddess named Garavoge, who came from the north-west with a collection of rocks which she dropped from her white apron:
"Determined now her tomb to build,
Her ample skirt with stones she filled,
And dropped a heap on Carnmore;
Then stepped one thousand yards, to Loar,
And dropped another goodly heap;
And then with one prodigious leap
Gained Carnbeg; and on its height
Displayed the wonders of her might.
And when approached death's awful doom,
Her chair was placed within the womb
Of hills whose tops with heather bloom"
Jonathan Swift, c. 1720
The landscape of Loughcrew is gentle and female: rolling hills and soft contours, with fabulous views from the neolithic monuments. The top of each summit is capped by a group of chambered cairns, originally at least 40 to 50 monuments, though some say up to a hundred cairns were scattered across the hills.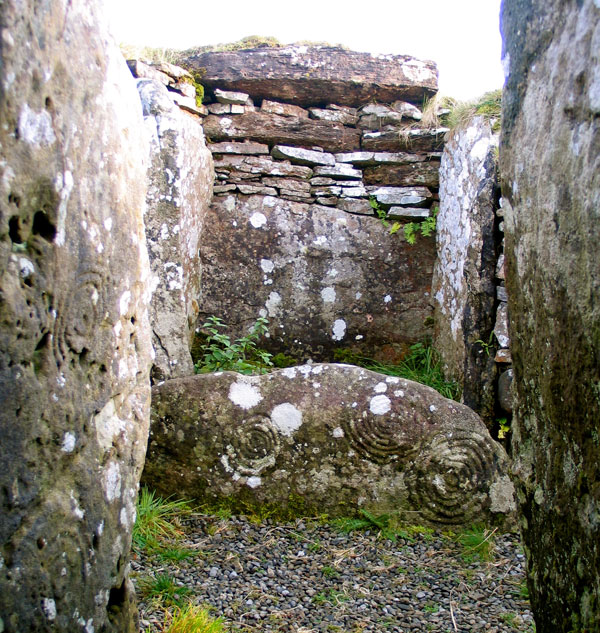 Loughcrew is one of Ireland's ancient wonders both for its landscape and well-preserved neolithic monuments. It is the third of Ireland's great complexes of chambered cairns as you move from the west coast to east. The Loughcrew cairns were rediscovered in the 1860's by Eugene Conwell, though William Wakeman also claims to have found them around this time. Conwell conducted a series of crude excavations and published an account of his finds to the Royal Irish Academy.
The monuments have not been excavated in recent times, the last major works being done in the 1940's, when Cairn H was excavated and concrete roofs were added to Cairn L and the passage of Cairn T. Mounds of excavation spoil can be seen near Cairn H. There is currently no access to Cairnbane West, which is privately owned, and no access to the chambers of Cairn T or Cairn L ( spring 2020 ).