Glencolumbkille court cairns
The beautiful valley of Glencolumbkille lies at the extreme west of County Donegal, at the end of a peninsula looking out over the Atlantic Ocean. The valley is best known for its associations with Saint Columbkille, the sixth century saint who established a monastic foundation there, attracted by the extreme remoteness and beauty of the site.
Today it is also well known as the home of a vibrant and dynamic school of fiddling: at one stage every house had a fiddle hanging by the fire place and almost everyone could play. However, the valley was first settled by neolithic farmers, and the remains of two fine court cairns can be visited today.
Farranmacbride
On the north side of the valley lies the majestic monument of Farranmacbride. This huge central court cairn is one of the finest and most elaborate examples we have, and it has the largest court area of the 400 or so court cairns in Ireland.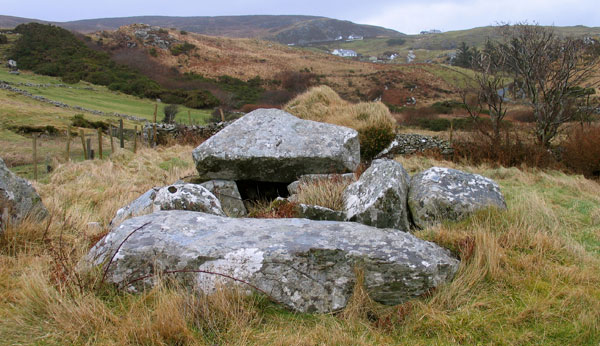 The monument is in quite a state of disrepair: a road has been dug through the middle of the court and the lintols over the entrances have been displaced. However, compared to many of the much more ruined monuments in Ireland, it is a very impressive site.
The court measures 20 x 10 meters, and many of the court stones are still in place. Most of the lintols and corbels are still on site, and several of the massive corbels are still in position over the west chamber. There are a number of smaller chambers around the court, at least two and possibly four originally.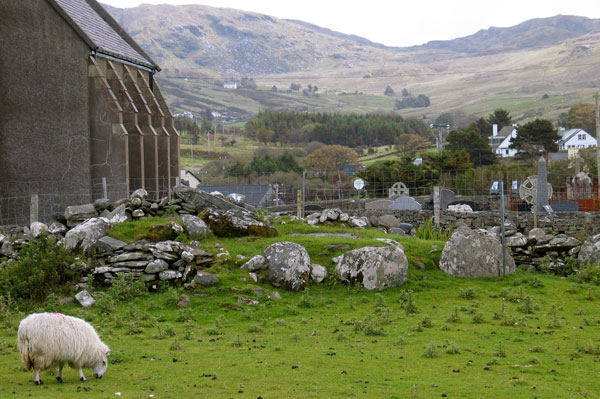 The second court is at the centre of the valley, right by, or even under the modern church of Ireland building. The monument is much disturbed as the site hae been in use since the neolithic. An early Christian cashel or settlement was built over the court, probably the site of a church that has since been replaced by the modern church. This site is now the first station of the pilgrimage route around the valley. Little remains of the megalithic structure.